My beloved state of California has a total of 9 national parks – more than any other state, including Utah, which I personally consider the most beautiful state for landscape photography. The sheer size of Golden State – slightly larger than Japan and slightly smaller than Sweden – allows for incredible geographic and geological diversity, hence there is no shortage of fascinating destinations both within and outside of the National Park System.
I have personally visited 8 of California's national parks, and would like to share my impressions of all of them in my order of preference, both photographic and from the point of view of general interest. I will rate the park on a 1-10 scale both for photography and nature lover's interest.
Death Valley
For a photographer, few spots on Earth can rival Death Valley in terms of extraordinary picture spots. From the world-famous Zabriskie Point to Racetrack Playa, the sites are second to none. The park should be avoided in summer months, as it is one of the hottest places on Earth with temperatures reaching 56C. But from October till end of April, it is a rather pleasant destination, where you can even camp in your own tent, if you'd like.
Zabriskie Point, which is best photographed in early morning, is perhaps the most popular and easy-to-reach place in the park. Be prepared for flocks of other photographers, but don't worry, there's usually room for everyone. Other spots, such as Badwater (the lowest point of the USA), the Artist Palette and Devil's Golf Course are all within an easy drive from Zabriskie and do not require much hiking.
Badwater is of particular interest in autumn, when it is covered in hexagonal patters of crystallized salt. Try to find a spot further out that is completely white in colour. In winter and early spring, Badwater is often covered in thin layer of water, allowing for spectacular mirror-reflection landscapes. I prefer photographing Badwater at sunset.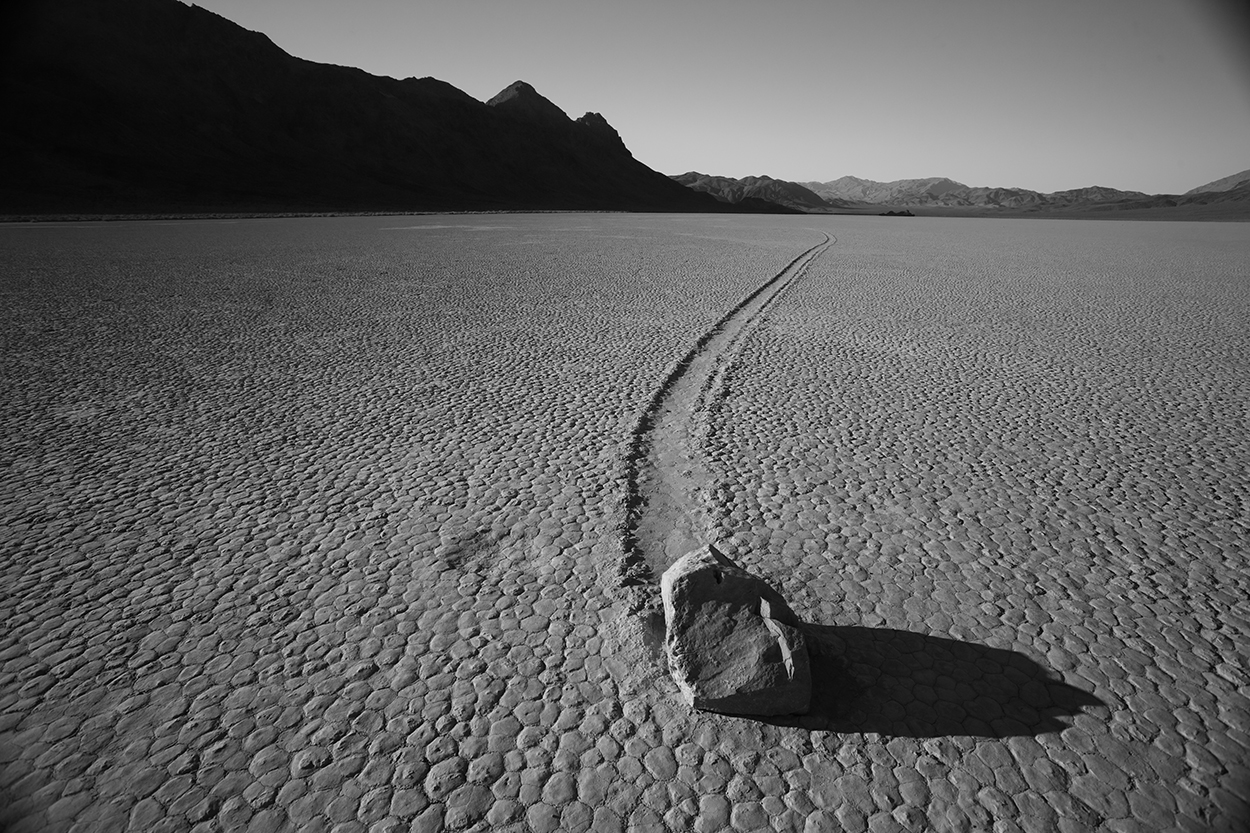 Racetrack Playa is a tough spot to reach, but it is here where you can find the famous wandering rocks of Death Valley. Don't be fooled by a relatively short distance – it can take well over 2 hours to drive here by a rough gravel road, and tyre damage is all too common here. Don't even think about going here without a spare or a car with sufficient ground clearance. While the tracks from the stones are indeed a fascinating phenomenon and are very photogenic in afternoon, the latest reports are that many rocks are being removed by visitors, which is a real travesty.
My personal favourite nature phenomenon of Death Valley is the sand dunes. There are 2 areas of dunes in the park: Mesquite Flats and Eureka. Mesquite Flat dunes are along the main road to the park and are easily reached, although be aware that to really get in the middle of them, you'd have to walk about a mile or so from the road, and it's best photographed for about an hour after sunrise or before sunset.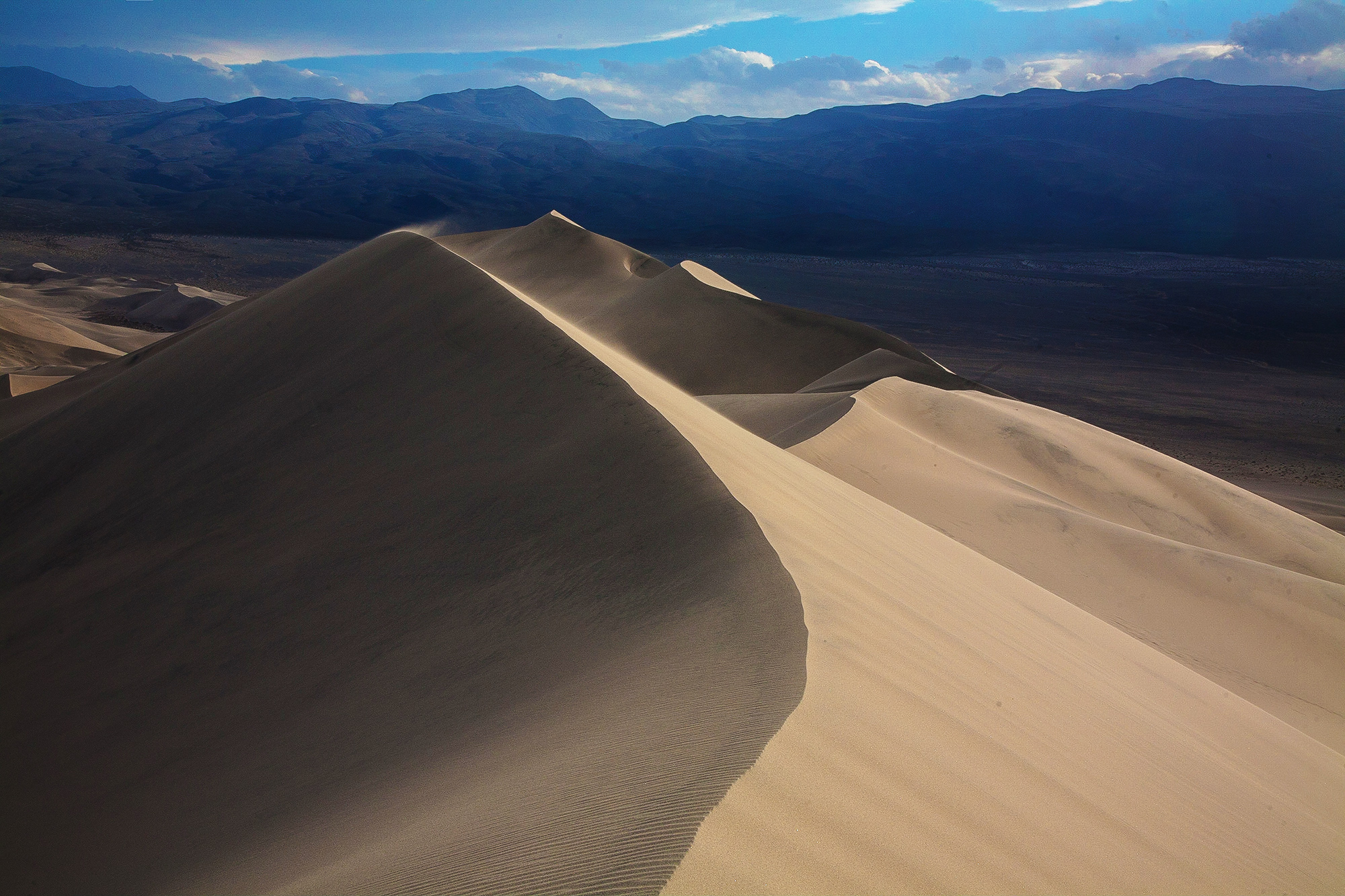 If sand dunes really are your thing, then do not miss Eureka dunes – among the highest in North America. They are situated in the north reach of the National Park and are technically not in Death Valley itself but in Eureka Valley at a much higher elevation. A trip here is a separate route from the rest of the park and along another dirt road albeit a better one than toward Racetrack Playa. I truly recommend camping here to appreciate both the sunset and sunrise view of these magnificent mounds of sand which you can, and should, climb.
As you see, you can easily spend 3-4 days in Death Valley, especially if you add other interesting sites in and nearby the park, such as Titus Canyon and the ghost town of Rhyolite.
Photographer's rating: 10/10
Nature lover's rating: 8/10 (it's all mostly desert, after all)
Yosemite
Ah, Yosemite – the jewel of the entire US National Park System. Famously discovered by John Muir and later photographed to death by Ansel Adams, it is perhaps, along with Yellowstone, the most famous national park in the world.
Its fame comes at a price. Even 20 years ago when I first visited the park, it was quite crowded. Nowadays, you cannot even enter the Yosemite Valley without an advanced reservation. And while sleeping in a tent cabin in Curry Village under the kilometer-high rocks is experience anyone would enjoy, don't expect peace and quiet or affordable prices. Speaking of accommodation, the famous Ahwanee hotel is worth a visit just for its majestic lobby, if you can't afford the exorbitant room rates here or can't make a booking less than a few months in advance.
So why are people flocking to this place not exactly near any cities? It has some the best-formed and most beautiful glacial rocks and valleys in all of American West. You can see them both from below and above, as there are plenty of beautiful hiking trails and drives that will take you close to those precipitous vistas.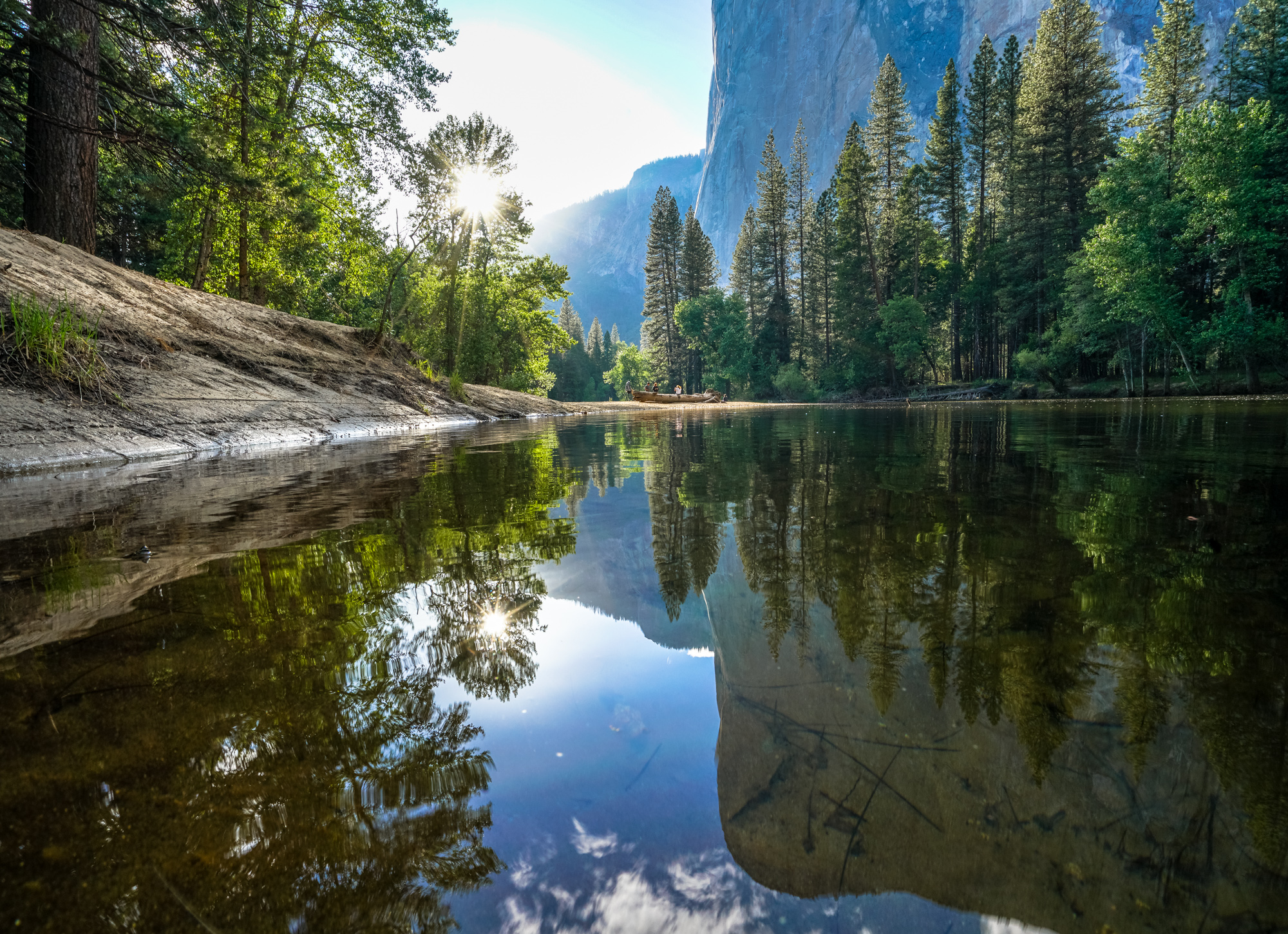 My personal favourite hiking destination in Yosemite happens to be Taft Point. It's a very easy hike, only about 30-40 minutes, which takes you to a place so vertiginous you'd better stay away from the edges. You can see the similar view at the drivable Glacier Point, but expect it to be packed with tourists.
And then there are waterfalls. Now, the famous Yosemite Falls rather less famously all but dries out starting June, so be prepared for that. And you can do a spectacular hike to Bernal and Nevada falls, which I find to be more rewarding than the hike to the top of Yosemite falls. The king of Yosemite's hikes, Half Dome, is by advance reservations only and is a strenuous all-day affair. I've done it three times, so trust me, I know!
While hiking and camping in all of Yosemite park is among the best in the world (just be bear-aware), photographically it is more challenging, at least for me. It is very hard to find a spot that has not been done over a million times, so what you are really looking for is unusual weather. If you are lucky, you can get some interesting clouds over the Tunnel View, or top of North Dome, or Taft Point. As spectacular as these sites are to gaze at and hike, taking pictures can be tricky, if you want something new, that is. Even the (in)famous Firefall, which is what Horsetail Falls is known as for about 2 weeks each February when the afternoon sunlight makes it look like flowing lava, is barely worth going to unless you simply want your own postcard, no different from the ones taken by thousands of other photographers (whom you will have to fight for a space).
One place not to miss is the Hetch Hetchy valley flooded with a reservoir. It's almost as beautiful as Yosemite valley yet receives far less visitors due to its fairly tight visiting hours. Check with the park.
Photographer's rating: 8/10
Nature lover's rating: 10/10
Sequoia/Kings Canyon
I have deliberately left out sequoia trees out of the Yosemite portion. They are there, but only in a few relatively small groves barely worth a hike or a drive.
To see the REAL big trees in one of their last remaining habitats, make your way to Sequoia National Park. The trees just don't get any bigger anywhere else in the world.
Sequoia and Kings Canyon are sister parks, adjacent to each other and usually visited together. They share the same Sierra Nevada Mountains topography. But it is here, tucked in perfectly situated spots, are the last remaining of the big tree groves that used to cover much of California. The world's largest tree, General Sherman, is here, and is perhaps the most popular site of the park.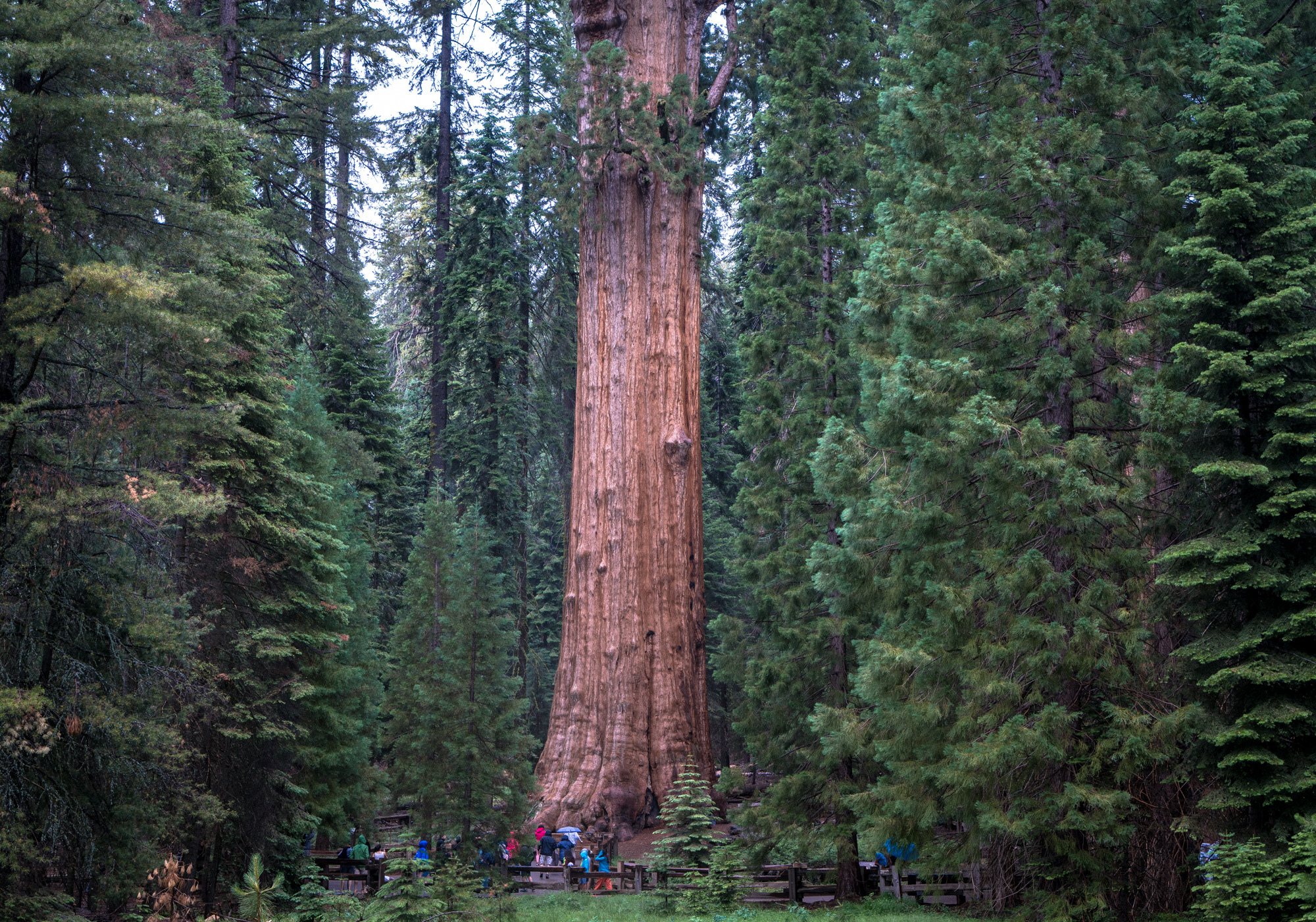 Another well-known destination within Sequoia park is Moro Rock. Not exactly a long hike, it is full of narrow steep passages, so make sure you are up for the climb. The views from the top are worth the effort though. Besides Moro Rock, the 2 parks boast several waterfalls and of course, the Kings Canyon itself, a perfect camping and hiking destination with relatively few visitors.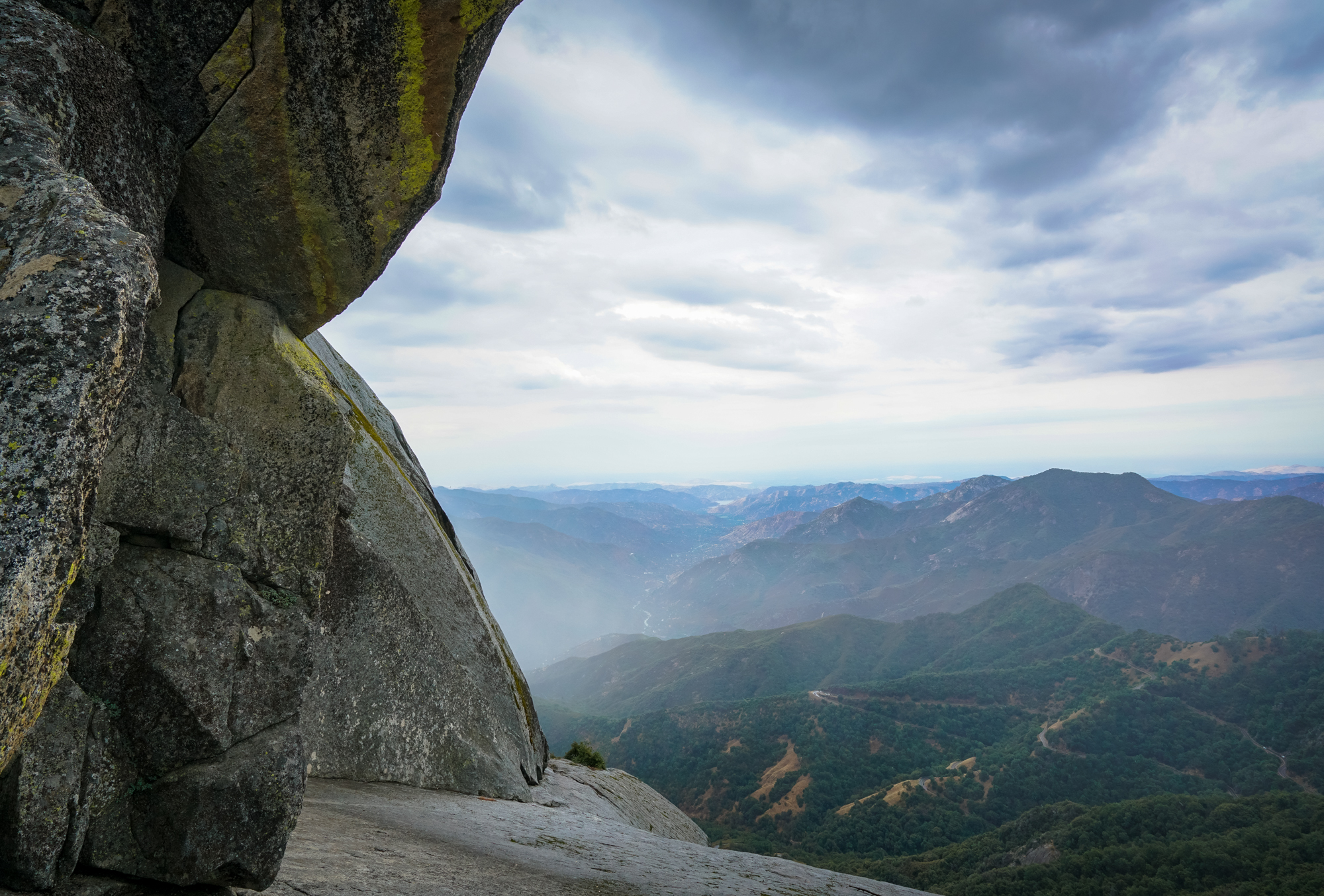 Photographically, you have to be prepared to photograph the big trees. Here, both wide angle and long lenses can work well. It is not an easy task to portray the sheer size of these giants, so try to have something or somebody for scale comparison. If you visit in late spring or early summer, you will find lots of blooming yucca and dogwood trees, both providing ample creative opportunities for a photographer.
Photographer's rating: 7/10
Nature lover's rating: 8/10
Redwood
Another perfect spot to see the big trees in California is Redwood National Park. Coastal redwoods are closely related to the giant sequoias found in Sequoia National Park and other areas of Sierra Nevada mountains. They are more slender but taller than their mountain cousins, but if you have not seen the giant sequoias, chances are, the coastal redwoods are still the biggest trees you've ever seen. These trees, despite having been decimated by logging, are still growing freely in many coastal groves from Big Sur to Southern Oregon. But Redwood National Park is the best spot to see and admire these arboreal goliaths.
Technically, this national park is a conglomeration of Redwood National Park proper and three state parks – Del Norte Coast, Jedediah Smith and Praire Creek Redwoods. All have plenty of redwoods and majestic trails to lead you to the groves, of any length you enjoy. Since the park is mostly coastal, you will not have to deal with high elevation or strenuous climbs here. And unlike all the parks mentioned above, this one does not have an entrance fee.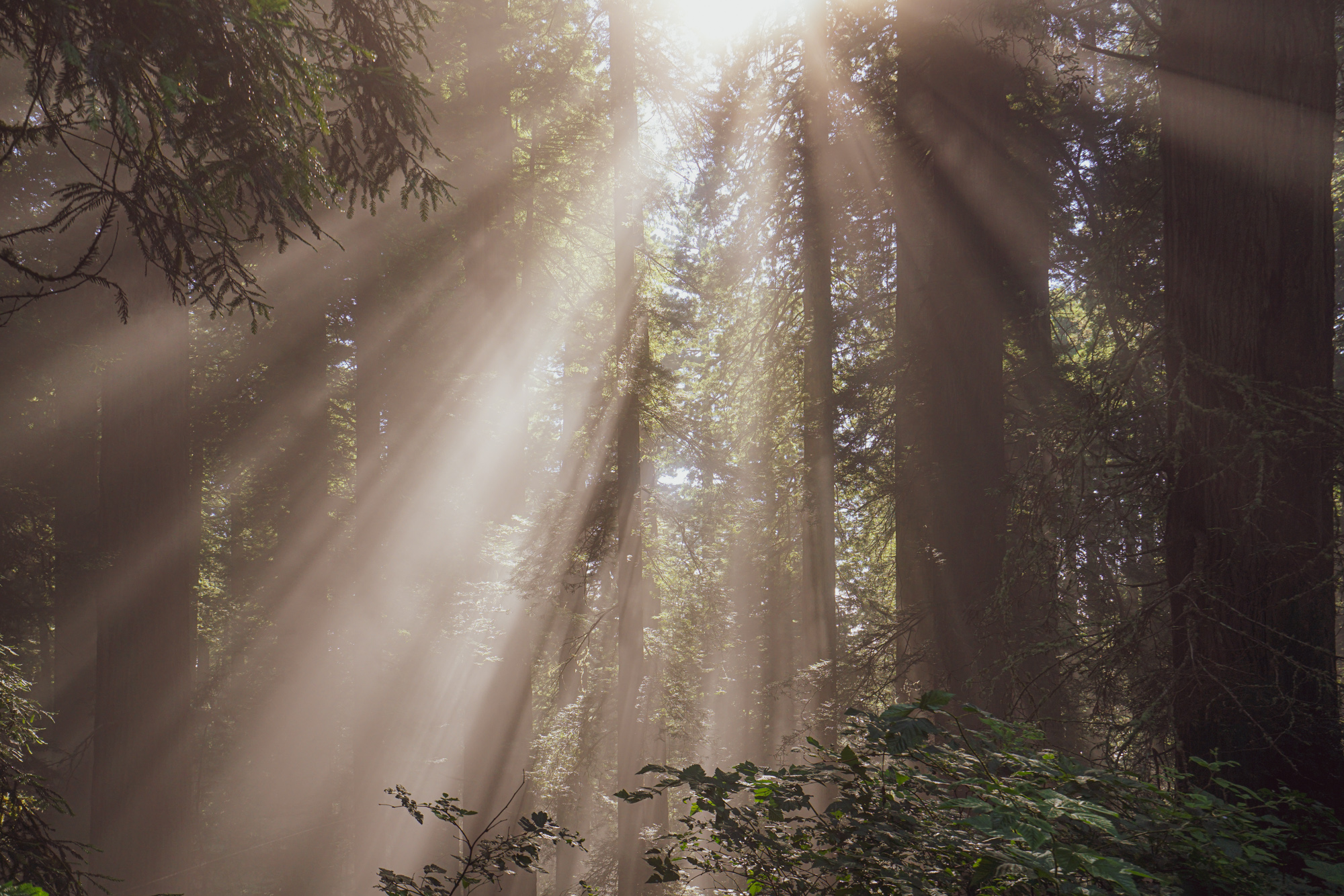 While pretty much every trail in the park that leads you to a redwood grove is interesting in its own right, my personal favourites are the trails in the northern reaches of Jedediah Smith State park that lead you to Stout and Ferrel groves. And it's well worth taking a drive along Howland Hill Road that meanders among the redwoods and takes you from trailhead to trailhead and eventually, to Crescent City, if you are coming from the east.
Photographing redwoods is quite similar to photographing giant sequoias. Play with both wide-angle and telephoto lenses to try and get the sheer scale of these giants in your frame. And if you are lucky, you'll get to see the beams of sunlight piercing through the afternoon mist as the ocean fog starts settling in.
Photographer's rating: 7/10
Nature lover's rating: 7/10
Joshua Tree
Another one of California's desert National parks is Joshua Tree, made famous by U2's eponymous album and photographed (together with the band) for the album cover by the equally famous rockstar photographer Anton Corbijn.
While the park can be inhospitable in summer months, it can be easily viewed and enjoyed while driving and taking short walks. There's hardly a need for long hikes here, as the very thing for which the park was named, Yucca brevifolia aka Joshua trees will be all around you as far as the eye can see. These trees can make for amazing photo ops pretty much any time of the day but of course best in early morning or late afternoon.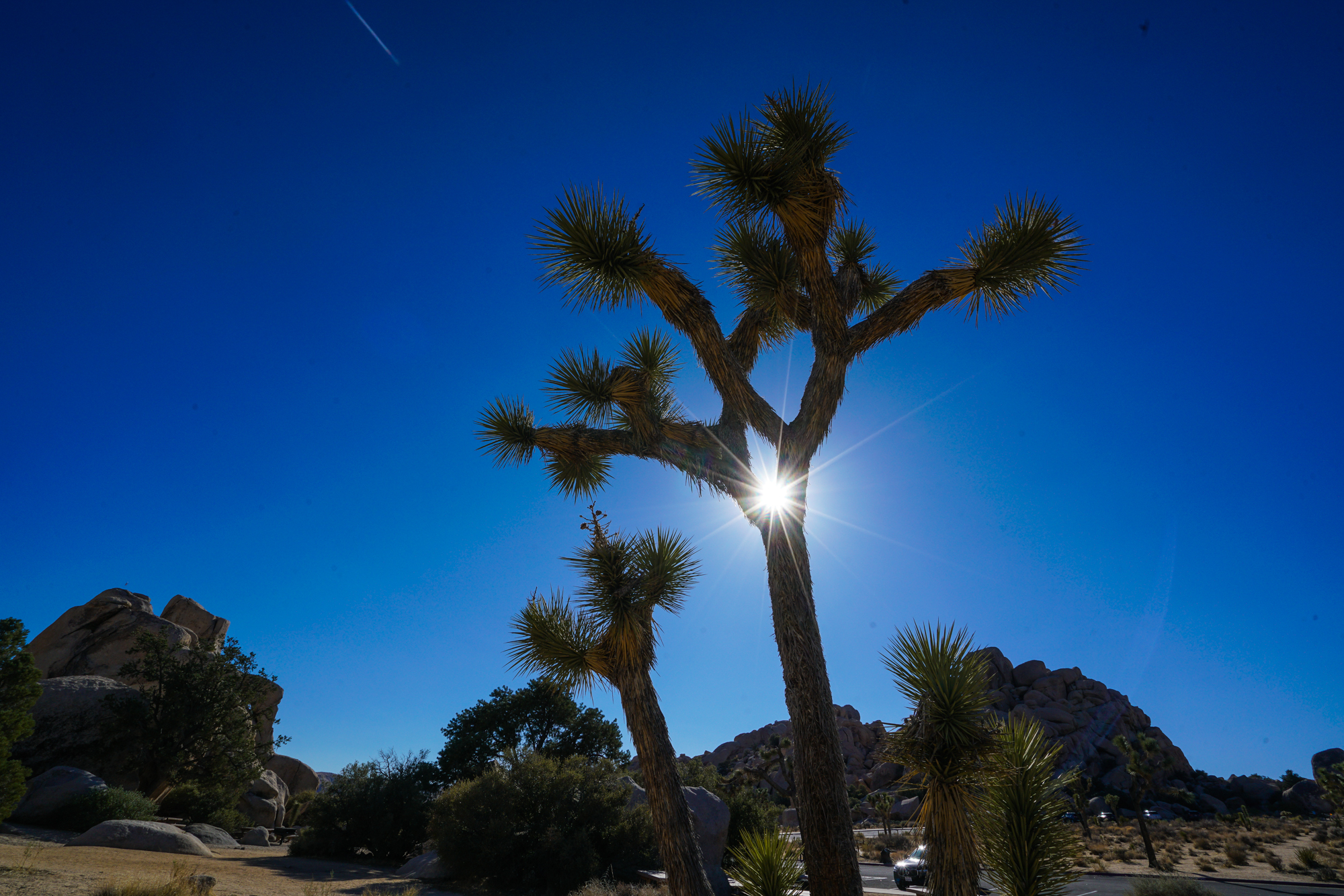 Another excellent photographic spot in the park is the Cholla Cactus Garden. Try to get here before sunset and go crazy photographing these wild cacti in all their unusual beauty.
If you DO want to hike here, there are quite a few trails, as in any national park. They mostly revolve around Joshua tree groves and curious rock formations, although compared to some other parks, rocks here are nothing to write home about. My personal favourite hike is 49 Palms Canyon trail, which is about 3-4 hours round trip and takes you to a neat little oasis of, you guessed it, 49 bushy desert palms crowding the space around a few puddles of water. I didn't count them personally, but feel free to do so if you go there. And bring plenty of water.
Photographer's rating: 6/10
Nature lover's rating: 6/10
Lassen Volcanic
Unlike all the previously mentioned national parks, I have only visited Lassen Volcanic once, and a rather long time ago, this my review of it is a bit biased. I don't recall it being particularly photogenic, but that's because its hydrothermal areas pale in comparison with those at Yellowstone, and its volcanoes are not as impressive as the ones in Oregon and Washington.
Still, it is an interesting enough park. Lassen Peak is at the southern end of the Cascades range, and is the last volcano to have erupted in California. Now you can safely and relatively easily hike to its summit, and enjoy the views. All this would be better done in fall or spring since summers can be scorching hot.
The park has plenty of hiking trails, woods, lakes and mountains, and receives far fewer visitors than most other parks in California. I guess I'm overdue for another visit!
Photographer's rating: 5/10
Nature lover's rating: 6/10
Pinnacles
Pinnacles is the newest addition to the national parks of California, having been a national monument for over a hundred years previously. As with Lassen Volcanic, I have only visited it once, thus my experiences of this park were not overly extensive.
I did hike in the Talus Caves, the main point of attraction of Pinnacles, and it was a very exciting and unusual hike. These caves are formed by giant boulders inside a canyon, rather than by water erosion underground. Thus you get a reasonable amount of sunlight in the caves but almost no subterranean formations common to other caves.
Still, it is a great park to visit, and even more so if you are a rock climber. It is within easy reach of South Bay Area, and could even be visited on a day trip, although it is fun to camp in the park, too.
Photographically, I do not remember it being of much interest, even inside the caves. Or perhaps I did not look hard enough, so yes, another visit is in order.
Photographer's rating: 4/10
Nature lover's rating: 6/10
Other Parks and Reserves
If you recall, I have personally visited 8 of 9 California's national parks. The last and the only one I've never visited is Channel Islands. This is one park where you must make boat reservations to access it, as well as camping bookings and so on. It must be amazing to visit, however, and is firmly on my list of places to visit in California.
But you don't need to go to uninhabited islands to enjoy California's coastal scenery. The coast is literally dotted with state parks from south to north and back. The Golden Gate National Recreation Area and Point Reyes National Seashore all have a similar protected status to national parks, and offer unlimited and free breathtaking coastal hikes and photo opportunities.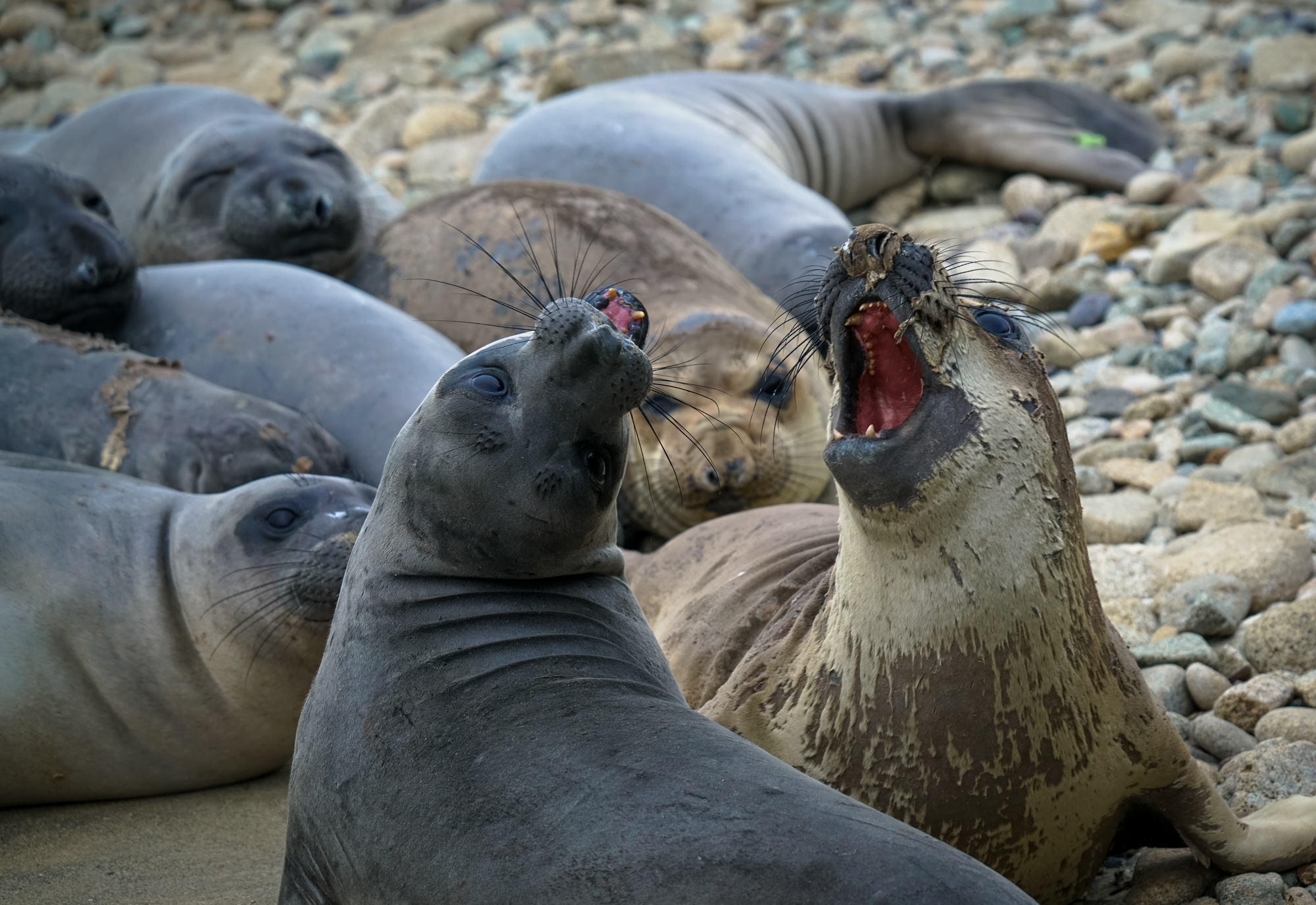 As for the national monuments of California, I could easily write a separate article about them. Many of them are no less interesting than national parks, but are usually smaller in size. For example, Carrizo Plain offers expanses of blooming flower fields in spring. Devils Postpile is a fascinating basalt formation. Muir Woods is an impressive redwood grove just 30 minutes away from San Francisco. Lava Beds is another interesting volcanic terrain with small caves in a very remote part of the state.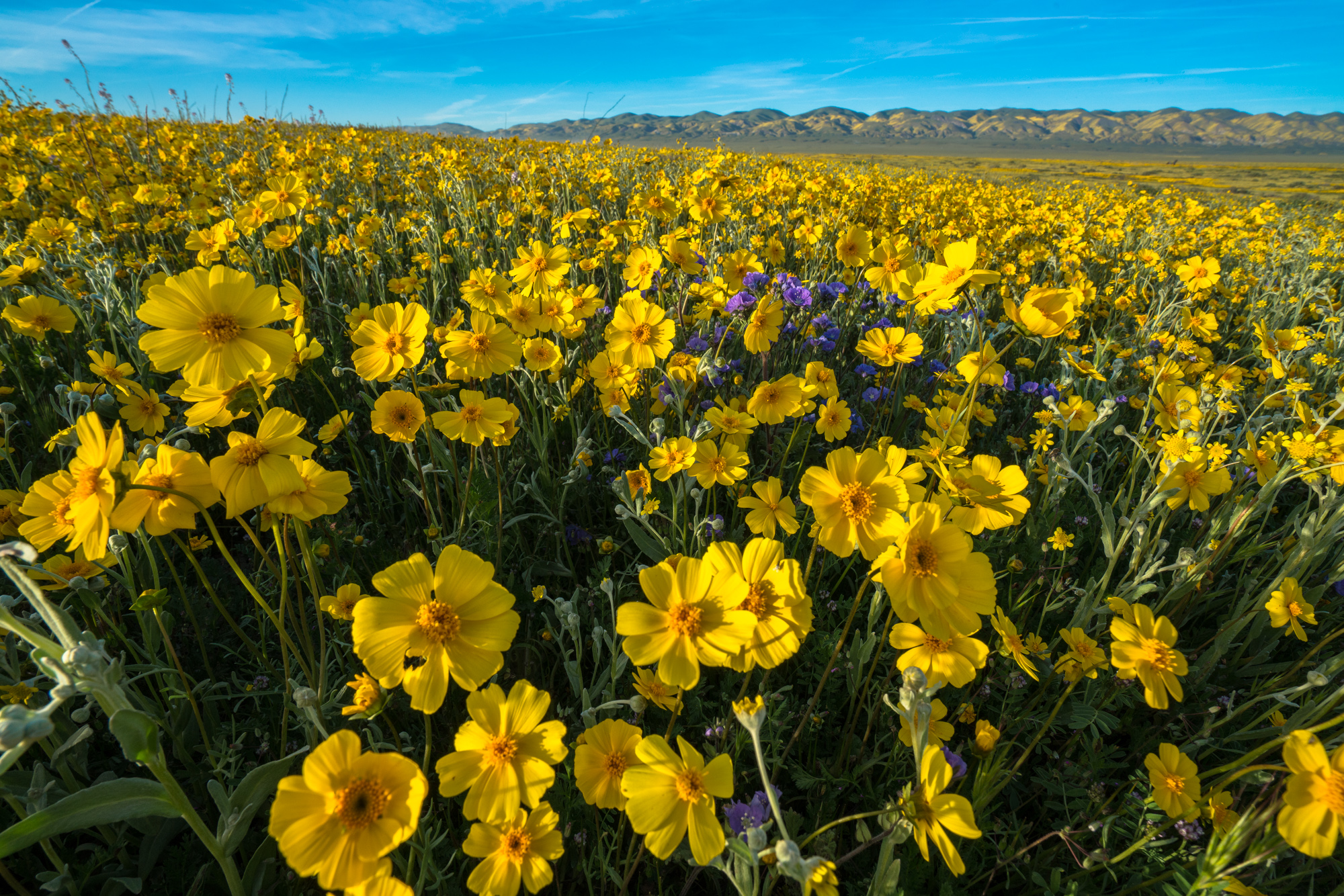 Of the more notable state parks, I would like to mention Calaveras Big Trees, which is an excellent alternative to Sequoia NP to see the giant sequoias, Anza-Borrego for another wildflower field area, and Mono Lake Tufa State Natural Reserve, with its out-of-the-world calcium-carbonate towers and formations in the unique ecosystem of Mono Lake.
As you can see, you can spend months in California and not run out of amazing destinations, but for nature lovers and photographers. With most being easily accessible by car, what are you waiting for? Let's go!