Sometimes we travel to see the natural beauty, and sometimes we go half-way around the world just to gawk at the marvels build by man over the centuries. I love both equally, to be honest – in my most recent trip to Central Asia, for example, I had a chance to enjoy both types of attractions. In this list, I would like to mention the man-made sights I personally like (or would like to see) the most. 7 of these I had the pleasure to visit, and the other 3, I have yet to admire in person.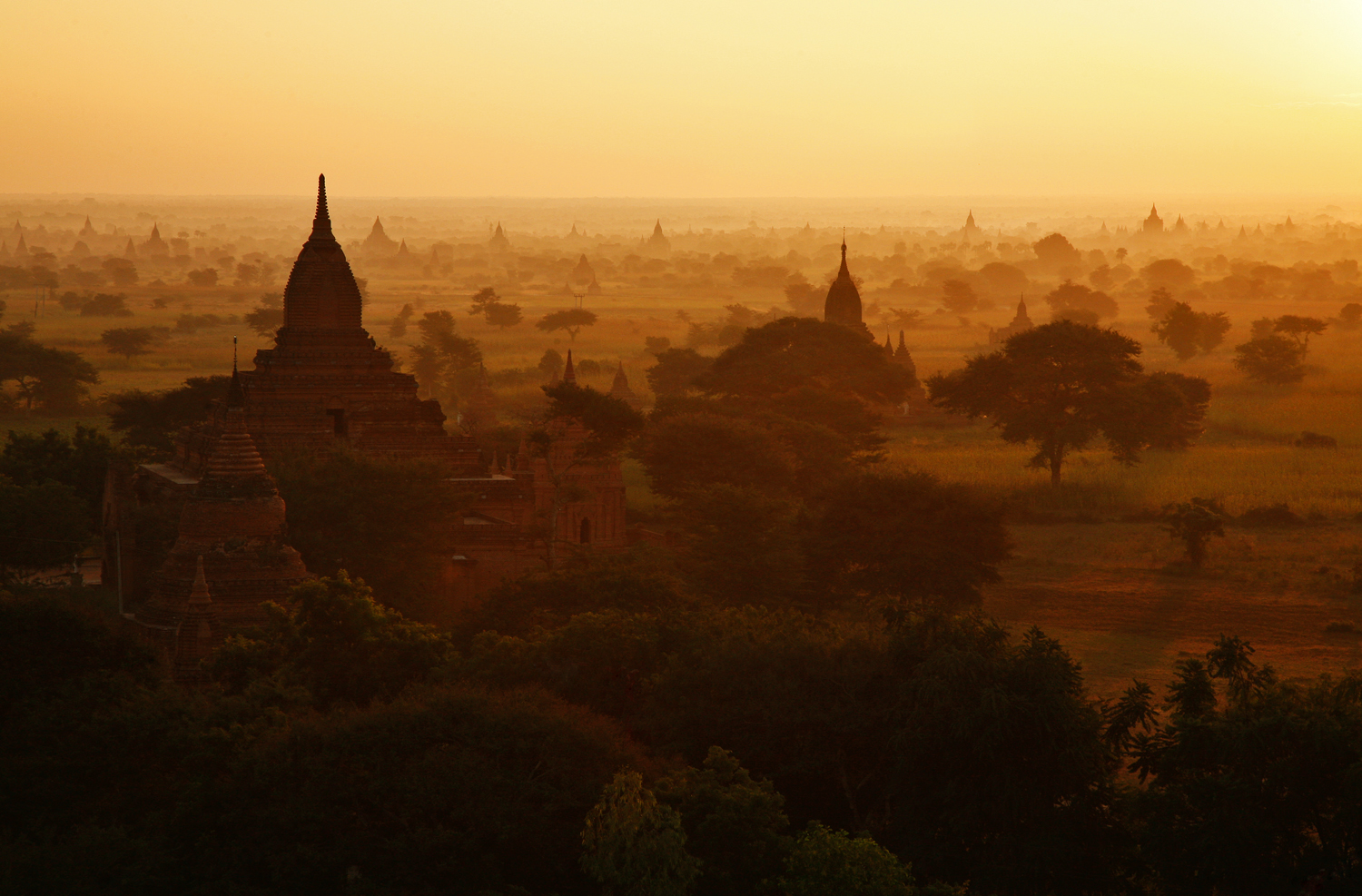 It would not be an exaggeration to name Bagan my favourite sight in the world. Yes, there are probably more magnificent temples elsewhere, but the sheer number of them concentrated in the relatively small area is what makes it unique.
Imagine standing on top of an 800-year old pagoda and seeing endless spires and domes in every direction stretching to the horizon. Then imagine being able to wander among these half-abandoned structures for days, exploring the interiors and trying to pronounce some of the temple names in Burmese… Some are said to be haunted, others have beautiful legends about them, yet others are fully restored and used as magnificent places of worship. My personal favourite temples are Sulamani, Dhammayangi, Htilo-Minlo and Ananda. Tip: wear easy-to-remove shoes or sandals to be able to enter the buildings.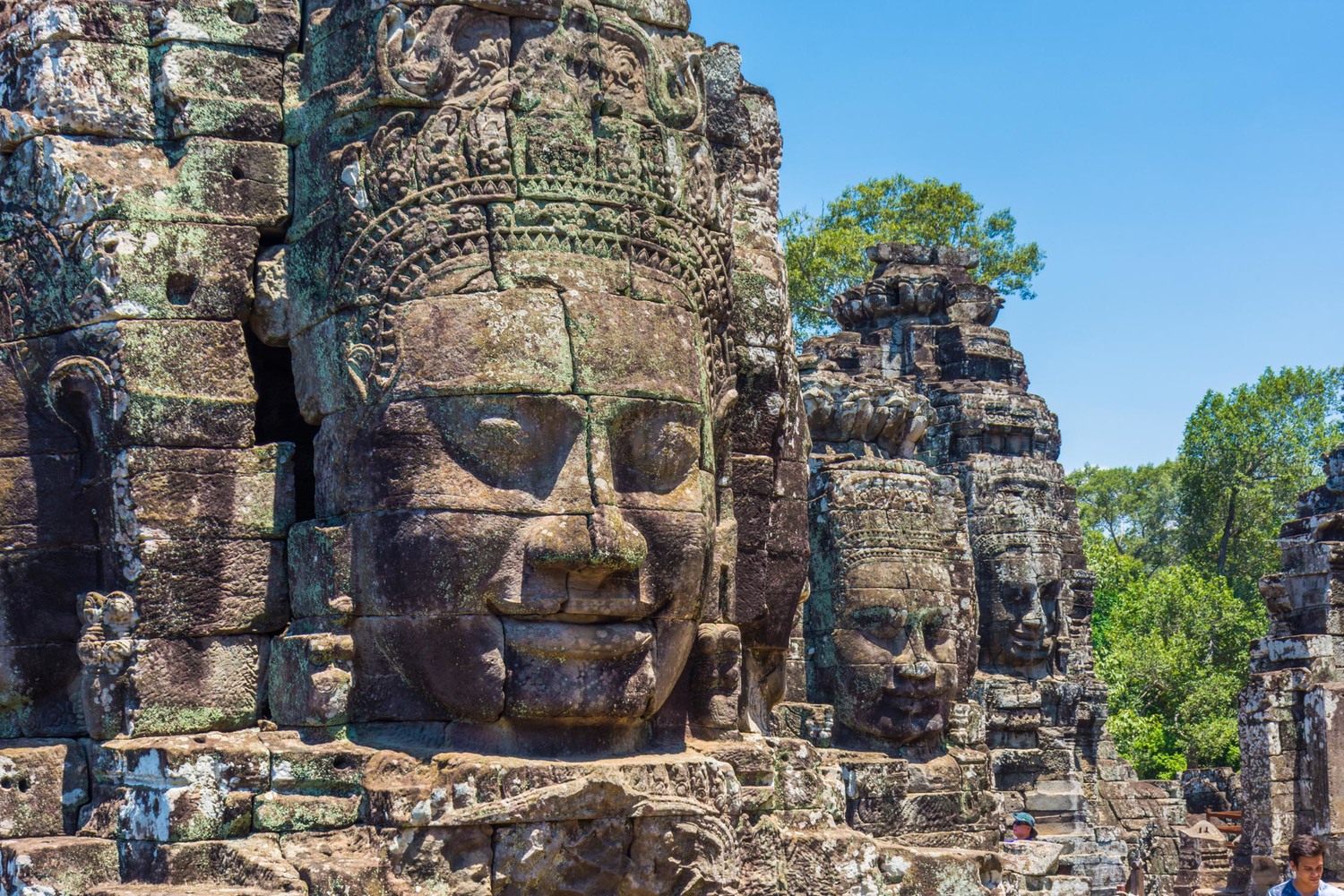 Angkor is the top attraction in Asia, of not the world, for many travelers. Rightfully so: it's sheer scale and size are stunning, as is the intricate beauty of the bas-reliefs and sculptures. Just like Bagan, it was abandoned for centuries, creating a mysterious aura you can still feel when you walk around some of these temples, especially the more remote ones.
While Angkor-Wat is postcard image of the overall complex and is absolutely magnificent, my favourite temple is Bayon. You know it by the multiple giant faces of the king that built it back in the 12th century. They are built into the towers and walls and will stare at you from all sides as you climb the semi-ruined structure.
Yes, Angkor is a very popular sight and will be crowded at any time, especially at sunrise. Tip: don't bother trying to squeeze in; instead, avoid the crowds by buying the 3-day ticket and starting off with the far-out temples such as Banteay Srei, and then doing the bulk of your exploration in the afternoons. And just like in Bagan, be prepared for countless children everywhere offering you overpriced trinkets.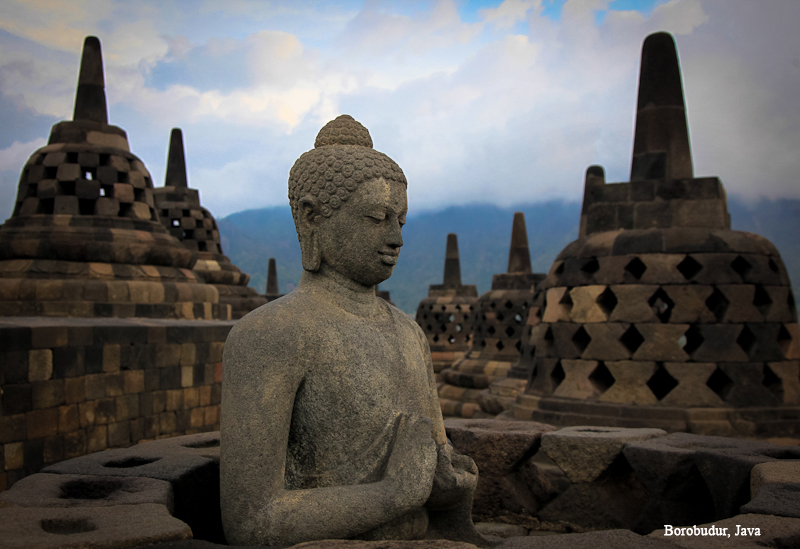 The last one of the Big Three Asian monuments is Borobudur, located in central Java and usually visited from the city of Yogyakarta. If Bagan and Angkor are basically ancient cities of many temples, Borobudur is very much a single, solitary structure. But what a structure it is! It's the largest Buddhist temple in the world, yet its construction is still kind of shourded in mystery and we don't even know why it was abandoned, despite its location in one of the most densely populated parts of the world. We do know that it was build around 800AD, making it older than either Angkor or most monuments of Bagan. At that time, most of South East Asia was ruled by Hindu kingdoms, thus a Buddhist temple of this size is an oddity on its own.
So to see such an unlikely and unusually large temple is a special treat indeed. Its walls are adorned with a whopping 1460 narrative stone panels depicting not only Buddhist scenes but also daily live of the 8th century Java.
All in all, Borobudur is an absolute must see on any trip to Indonesia or South East Asia. You can combine it with a visit to a large Hindu complex from about the same period called Prambanan located near Yogyakarta. Tip: it is well worth spending the night near the temple so that you can see it at sunset and also take a sunrise tour of it. The best hotel is Manohara resort located right next to the monument. It is pricey, but its unique location makes it worth it, especially considering it includes unlimited admission to the temple.
While you've probably heard of or seen the other sites in this list, I am willing to bet most of you have never heard of Unakoti. Located well away from the tourist routes in the remote Northeastern state of Tripura, Unakoti is a series of cliff-sized bas-reliefs of Shiva, Ganesha and other Hindu deities located in the middle of a forest. Seeing it was a true Indiana Jones moment, and my jaw nearly dropped from seeing the sheer size of it, not to mention the age – well over 1000 years old, by conservative estimates. Little is known about the people who carved these gigantic sculptures. Suffice to say, I have not seen too many sights quite like this, let alone barely known to foreign tourists.
Tip: the town of Kailashahar, near which Unakoti is located, can be reached by train from Agartala, Tripura's capital, which in turn is best reached by plane from Kolkata unless you are traveling through Bangladesh, in which case it's right across its eastern border. There are basic guesthouses in Kailashahar, and you should be able to arrange a local transport to Unakoti with relative ease.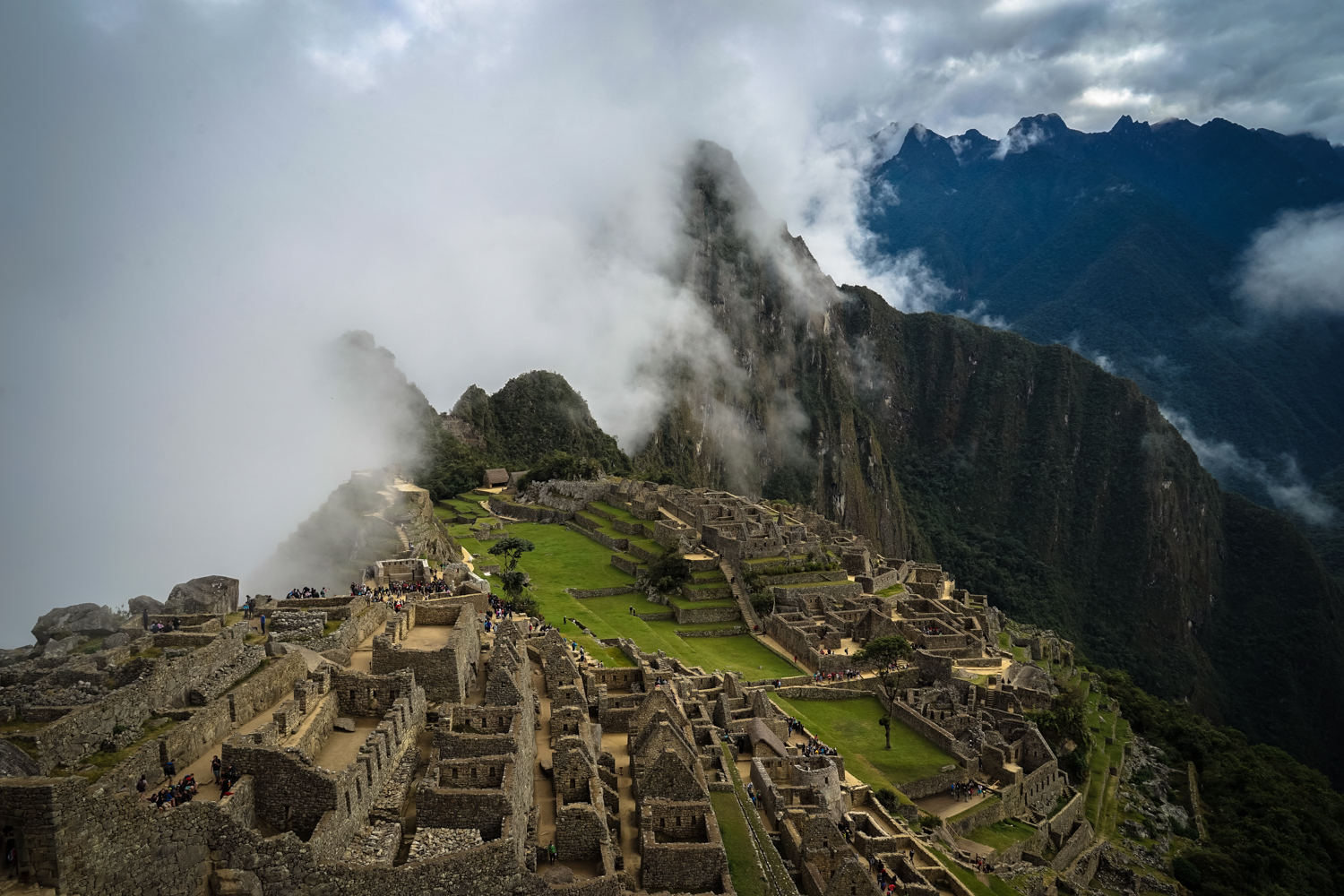 Even though most don't pronounce it correctly ("Pik-chu", not "Pichu"), Machu Picchu is the place just about everyone has heard of. It might very well be the best-known sight in Western Hemisphere, and for good reasons. The setting alone is magnificent – high on the mountain top, surrounded by even higher Andean peaks. Getting there is half the adventure, as long as you do it right and allow yourself enough time. The real masterpiece of the Incas is the stonework of the surviving walls, where there's barely a gap between the huge stones of different shapes. You have a chance to walk around and explore the grounds, but as of recently, you get only half a day to do so. Alas, Machu Picchu is a victim of its own popularity, and you, the tourist, pays the price. I personally avoided seeing it until fairly recently myself, precisely for the reasons of its immense popularity. But seeing it was certainly worth it.
Tip: getting to Machu Picchu by train is awesome, but it is probably the most expensive train ride in the world. To avoid the exorbitant train ticket price, there is a way to get to Aguas Calientes by a combination of public buses and about a 2-hour picturesque walk, which will cost you next to nothing. From Aguas Calientes, you can either hike or pre-book a shuttle to take you up the mountain to Machu Picchu. Make sure you are in the shuttle queue at least an hour before your allotted time at the monument.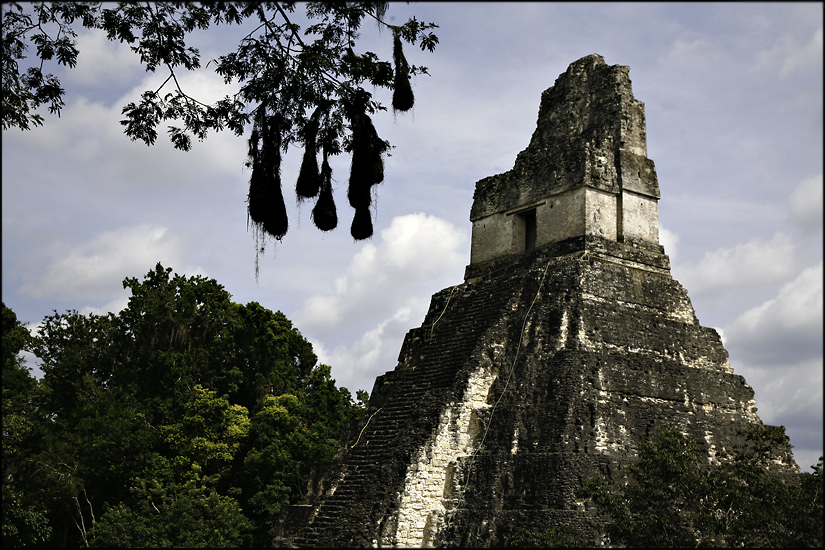 While Machu Picchu is heads down most picturesque and famous Inca site, choosing a Mayan one is more of a challenge due to their relative abundance. Some like Chichen Itza, others prefer Palenque or Uxmal, but my favourite is Tikal. Why? Well, for starters, you can climb some of the pyramids. Also, Tikal was a real city, a true centre of Mayan civilization. Its setting still in the jungle adds to the overall experience.
Tip: I usually don't recommend tour guides, but for Tikal, I make an exception. Without a guide you would simply miss out the meaning of any carvings you might see, or any other symbolism of the place.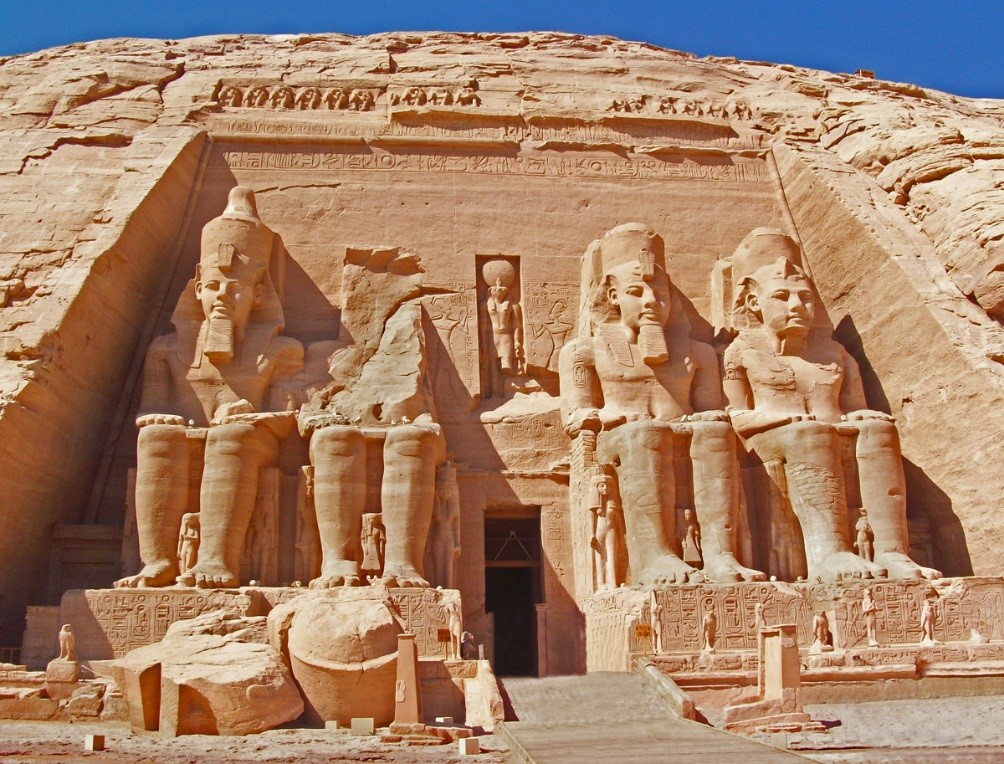 The first sight on this list that I have not yet visited is Abu Simbel. Of all the Egyptian ones I picked this one due to its sheer grandeur and location way down south, thousands of kilometers of Cairo, Giza and the more popular ancient Egyptian sites. The coolest fact about Abu Simbel is that back in 1968 it was actually carefully cut in pieces and relocated a few hundred meters away to prevent it from being flooded by the artificial Lake Nasser. It was truly one of the greatest challenges of archaeological engineering in history.
Imagine walking on a rocky plain and then suddenly stumbling upon a giant hole in the rock with an entire church carved from it down below. Lalibela in Ethiopia has 11 such churches, al carved in 12-13th centuries. All churches are unique and continue being used as important places of worship of Ethiopian Orthodoxy. It truly is one of the top spots on my list to visit.
Kailasha Temple, Ellora Caves (India)
Just like Lalibela, this temple in India is carved in rock as one monolithic piece, but on a much more massive and intricate scale. In fact, Kailasha is the largest rock-cut temple in the world. Seeing it must be a real treat – most Hindu monuments are adorned with elaborate bas-reliefs of various deities as well as some rather erotic scenes, as I witnessed in another gigantic ancient temple in Konark, Orissa. Imagining how something like this was constructed all the way back in 8th century AD is almost incomprehensible, yet we are fortunate to still be able to admire this stonework 1200 years later.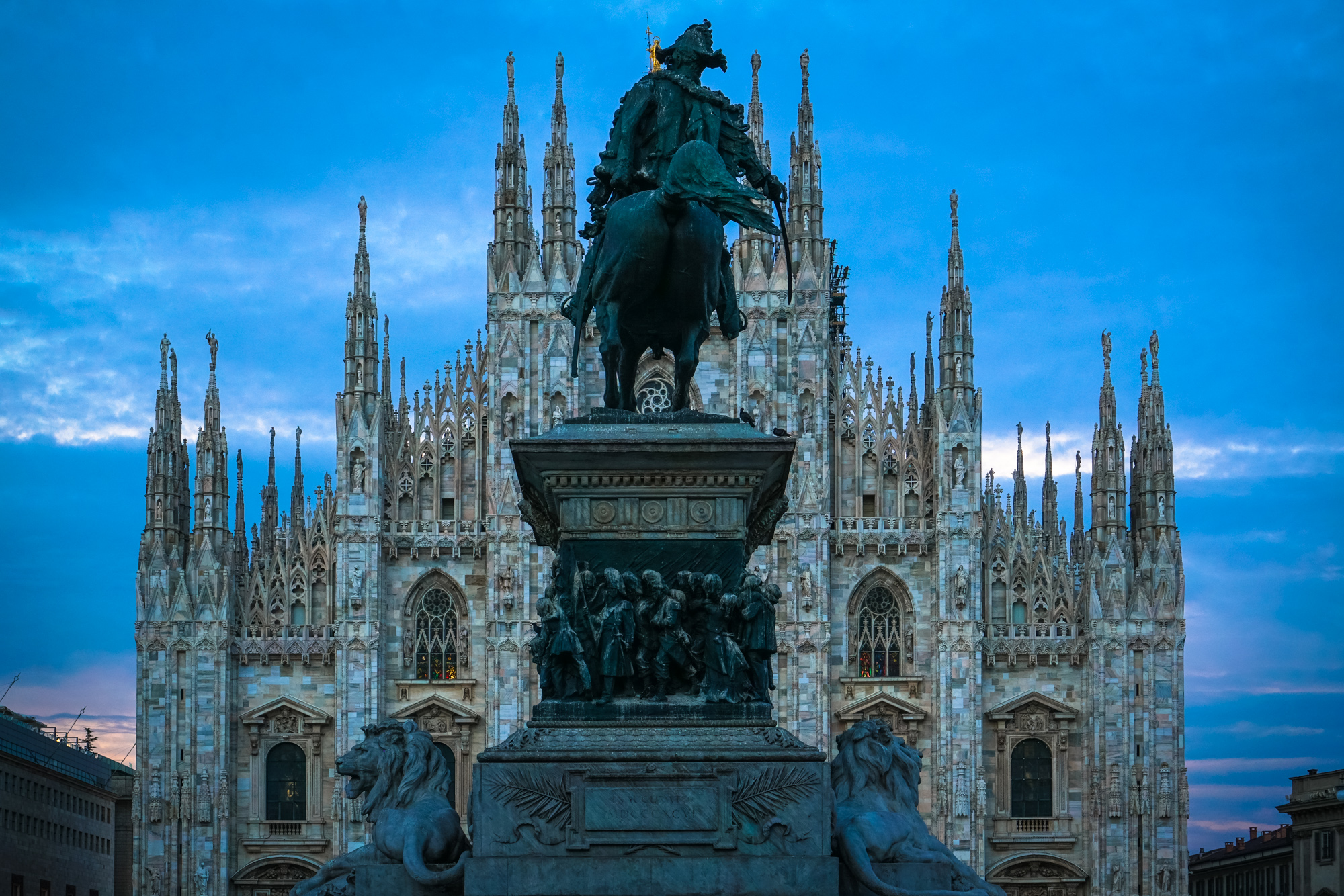 Of all the Gothic cathedrals in Europe, and I have been to lots, I chose the Duomo of Milan to represent Europe on my list. Why? Perhaps because of the easy access to the roof, where you can appreciate the brilliant arches and buttresses from up close, while enjoying the view of the Piazza down below. The interior is stunning, too – you can't help imagining the awe of a Milan commoner in 1400s that would enter in this magnificent cathedral. It is still the largest church in Italy and the 4th largest in the world. What makes Milan Cathedral even more special is that the city of Milan itself is rather modern, at lest nowhere as old as this church, which makes it stand in stark contrast to the surrounding buildings.
Tip: you simply have to visit the roof, and to reduce the waiting time, get the ticket to the stairs rather than the lift. If you are fit, it's an easy stroll up.
I could really go on with this list and include many other sights that impressed me just as much, such as San Marco Basilica in Venice, Chichen Itza in Mexico, Aya Sophia in Istanbul or Sagrada Familia in Barcelona, and some that I have not yet seen, such as Mount Rushmore, Cologne Cathedral or the Great Wall of China. I am sure they would all score very highly on your personal lists as well; let's hear what you feel should not be missed!