I have written about Phuket a number of times, but there is one main reason people from all over the world flock to this island on Thailand's Andaman coast. It's the beaches. As someone who has travelled and explored a big chunk of Thai seaboard, I can attest that the beaches in Phuket are second to none in the country and quite possibly, in South East Asia. There might be perhaps a nicer individual beach somewhere out there in the region than even the best beach in Phuket (which I will reveal in this post), but the overall concentration of quality beaches in a compact area of this island is absolutely special. In other words, when you come to Phuket, you are spoiled for choice with some of the best beaches in the world. But what are they and how do they rate against each other?
I've personally played beach bum and visited 18 major (and somewhat minor) beaches on the island in order to rank them on a scale of 1 through 5 in each of the following categories:
Accessibility: how easy is it to get to the beach? Is there walking involved? Is it far from the main population/resort areas of Phuket that mostly concentrate in the southern ⅔ of the island?
Beauty: is this the picture-perfect tropical beach? Is it built-up? Are there palms or other trees? How is the sand? Is there rubbish? Is the beach wide enough?
Swimming: is the water deep enough to swim? Are there big waves? Is there a lot of boat or jetski traffic?
Snorkeling: how clear is the water? Is there a lot of marine life? Snorkelling is my absolute favourite activity in the water, but, of course, you'd need to bring your own snorkelling gear, otherwise you will have to rent substandard equipment, if it's even available at the beach.
Secludedness: are you likely to have the beach to yourself or will it be hard to find a spot to put a towel? Will there be a lot of beach vendors peddling stuff?
So let's get started. Just remember: even an average beach on Phuket would probably end up in the world's top ten percentile of beaches by most criteria!
18. Mai Khao Beach
Accessibility: 2; Beauty: 4; Swimming: 1; Snorkelling: 1; Secludedness: 3. Total: 11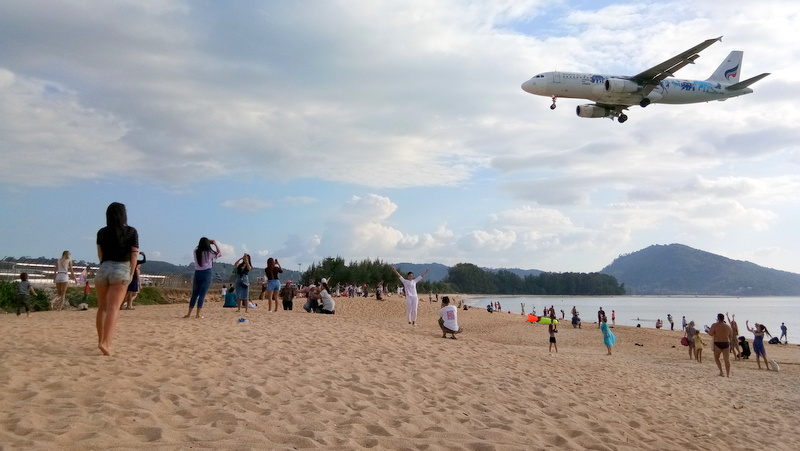 Also known as the Airport Beach, it is the northernmost on the island. There are only a handful of hotels and resorts here, some very fancy and I suspect, with top notch swimming pools, because this beach is not really suitable for swimming. The current, even in quiet season, goes at an angle to the shoreline, and will wash you away from where you enter the water. Not to mention the strong currents even when the rest of the island looks like a kid's pool. It also gets quite windy here.
Mai Khao is, however, good for plane spotting as they land and take off from the nearby Phuket International Airport. Make sure you track them with an online timetable though, because although I've been there 3 times, I only managed to see a plane take off once. A lot of times, when the weather is too windy or stormy, airplanes will land and take off from the other side of the runway and you'll never see them.
If you have a motorbike, the beach is reachable directly, albeit if you are coming from central Phuket, it will take you a while and you may have to ask the locals which one of the multiple roads will actually take you there (hint: don't trust Google Maps). If you are in a car, you will have to walk about 10 minutes from the parking lot.
17. Kamala Beach
Accessibility: 5; Beauty: 2; Swimming: 2; Snorkelling: 1; Secludedness: 2. Total: 12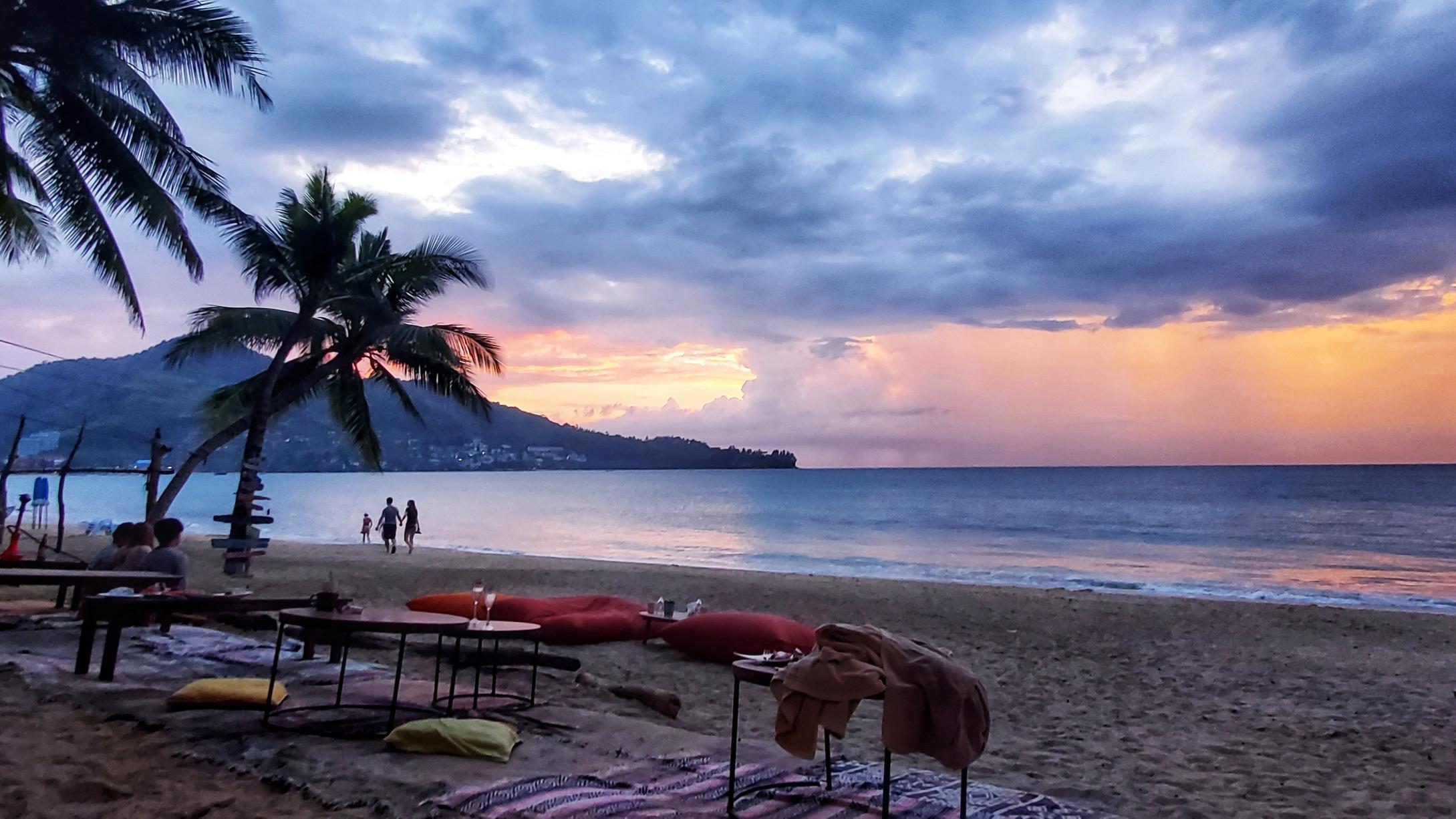 Kamala is one of the most agreeable towns in Phuket – centrally located, perfectly sized and right next to one of the better-known beaches on the island. However, it is not the best beach in Phuket, although certainly not a bad one.
The beach is easily accessible just off the main road, however, it is a fairly plain-looking one – all in relative terms, of course. Kamala beach is rather prone to tides, meaning that in low tide you'd have to go much further out to the sea to swim than in high one. The water here is rather murky, much like in the nearby Patong beach. There is a runoff from a couple of local streams, which doesn't exactly add clarity to the water. As such, there isn't much here in terms of snorkelling. Nor there is much of secludedness – the beach is lined with restaurants and resorts, including a couple of swanky beach clubs such as Café del Mar.
16. Naiharn Beach
Accessibility: 5; Beauty: 3; Swimming: 2; Snorkelling: 2; Secludedness: 1. Total: 13
Naiharn is the main beach of the southern municipality of Rawai, and is, therefore, a very popular beach. Even in the shoulder season, you will see big crowds here, so there goes the secludedness.
The sand here is spotty, firm and not particularly inviting, and neither is the water, although it's not dirty – just a bit murky from the muddled up sand. There is limited snorkelling on the flanks of the beach, but you are much better off in the nearby Ao Sane or Yanui for that. Swimming is okay if you manage to get far enough from all the children in the water.
Still, it's an accessible beach that somehow doesn't have a lot of so-called amenities that are right on the sand, so it's a decent option for a swim or a suntan if you happen to stay in Rawai, but not worth a trip from other parts of the island.
15. Patong Beach
Accessibility: 5; Beauty: 3; Swimming: 2; Snorkelling: 2; Secludedness: 1. Total: 13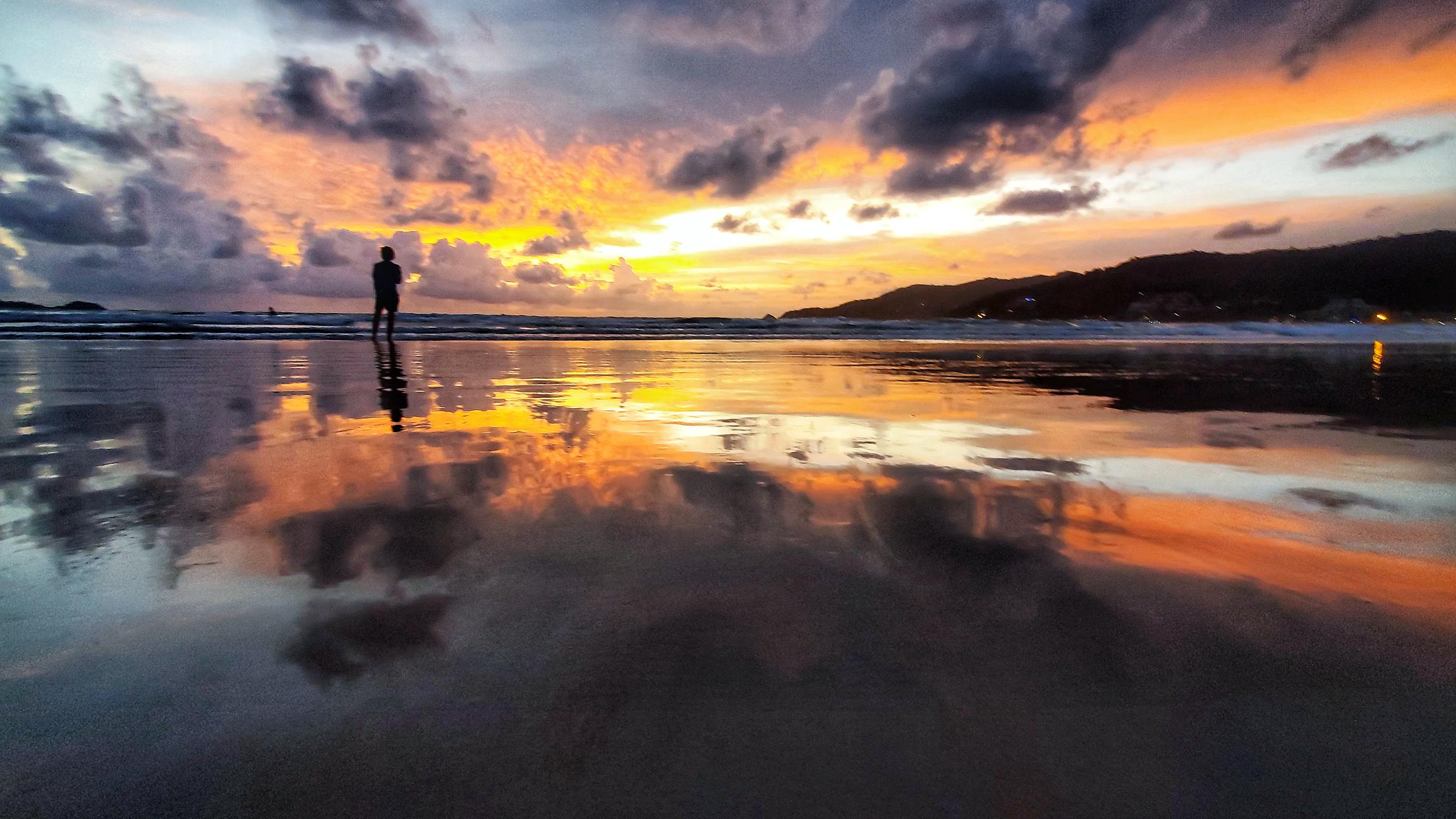 The most popular beach in Phuket is, no doubt, Patong. It's right next to the namesake town that happens to be the unofficial capital of Phuket's entertainment, and is therefore the opposite of secluded. The beach is a decent-looking one, however, lining a couple of kilometers of a crescent-shaped Patong Bay.
It is very accessible, with a long city road that goes all along its length. Multiple parking facilities are available, particularly for motorbikes. While there are no restaurants directly on the beach, there are dozens across the beach road. At any given time, you are likely to see up to 6 parasailing boats in the sea, and numerous boats and jetskis, so swim carefully. Fortunately, the launch areas are usually clearly marked.
The northern end of the beach is the rockiest, but also has some limited snorkelling potential. In rainy season, like everywhere in Phuket, there are waves here, and although they are rarely dangerous, you will be whistled out by overzealous lifeguards if you happen to venture too far. The southern end has some fishing and tourist boats docked making a picturesque sunset view.
Patong Beach is also a scene of a bit of night-time activity – every night after bars and clubs close on the nearby Bangla Road, fun-seekers (and fun-offerers) flock here for an after-hours drink or a snack to the sound of the rolling waves.
14. Paradise Beach
Accessibility: 2; Beauty: 5; Swimming: 1; Snorkelling: 3; Secludedness: 3. Total: 14
Romantically named Paradise Beach is a relatively easy getaway if you are staying in Patong. It is one of the smaller beaches on the list, located on one rocky cape south of Patong. It is also the only beach on the list which you have to pay to visit. To be fair, included in the price are the ride to the beach itself from the parking lot (a fairly steep walk otherwise) and a soft drink.
I am not a big fan of Paradise beach as it is obviously a commercial spot. It is covered in lounge chairs and families with kids and groups of daytime party-goers. If you want a bit more seclusion, however, you can walk over to its second part just over the rocks, where it is a bit more peaceful and beautiful.
While the setting of the beach is nice, the waters are tricky to swim due to very shallow reef and abundance of sharp corals. Even snorkelling here is challenging – while there is plenty of marine life, you are likely to rub your belly on the rocks or coral pieces scattered around this shallow bay.
Bottom line – this beach is for you if your idea of a day at the beach is music, cocktails and lounging under the parasols.
13. Bang Tao Beach
Accessibility: 3; Beauty: 3; Swimming: 3; Snorkelling: 2; Secludedness: 3. Total: 15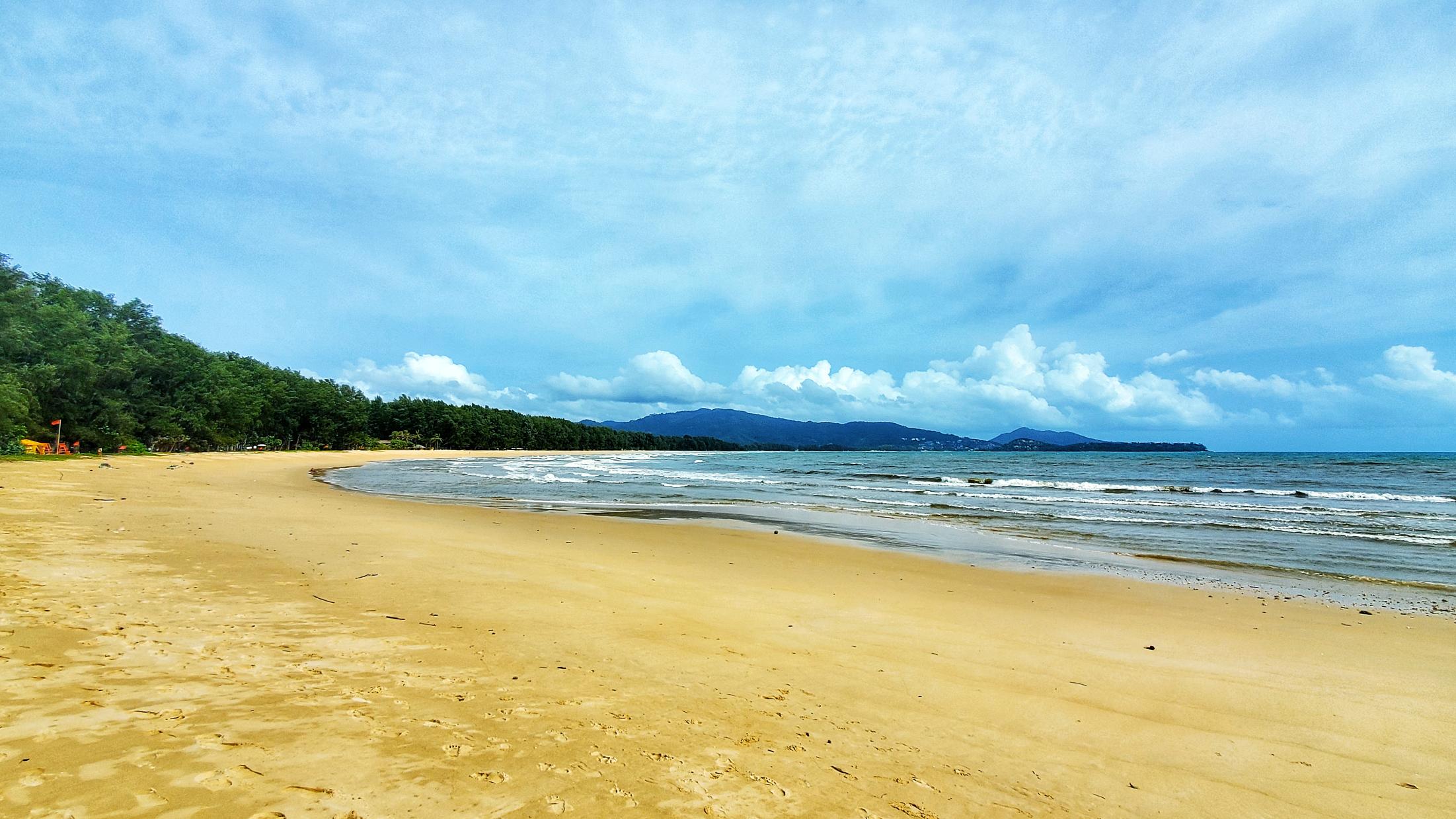 At nearly 8 km, Bang Tao is the longest beach in Phuket. As such, your experience of visiting it will greatly depend on which part of the beach you are on. The southern half of the beach is just like any other developed big beach on Phuket – decent sand and relatively shallow murky-ish waters, although nothing special.
The northern end is a bit more secluded and interesting, as it is part of the Sirinat National Park and has a wild, undeveloped feel. It can get windy here which isn't ideal for spending a day on a beach towel. Bang Tao is a decent beach overall, although not my favourite due to its monstrous size and relatively shallow water.
The beach, despite its length, is surprisingly tricky to reach for a first-time visitor: it's not situated along a main road. Instead, you'd have to navigate narrow and confusing backstreets of Bang Tao town for its southern end and luxury condominium and golf course access roads for the northern end. But just as with all the beaches listed here, Google Maps is your best friend in finding them.
12. Karon Beach
Accessibility: 5; Beauty: 3; Swimming: 4; Snorkelling: 2; Secludedness: 2. Total: 16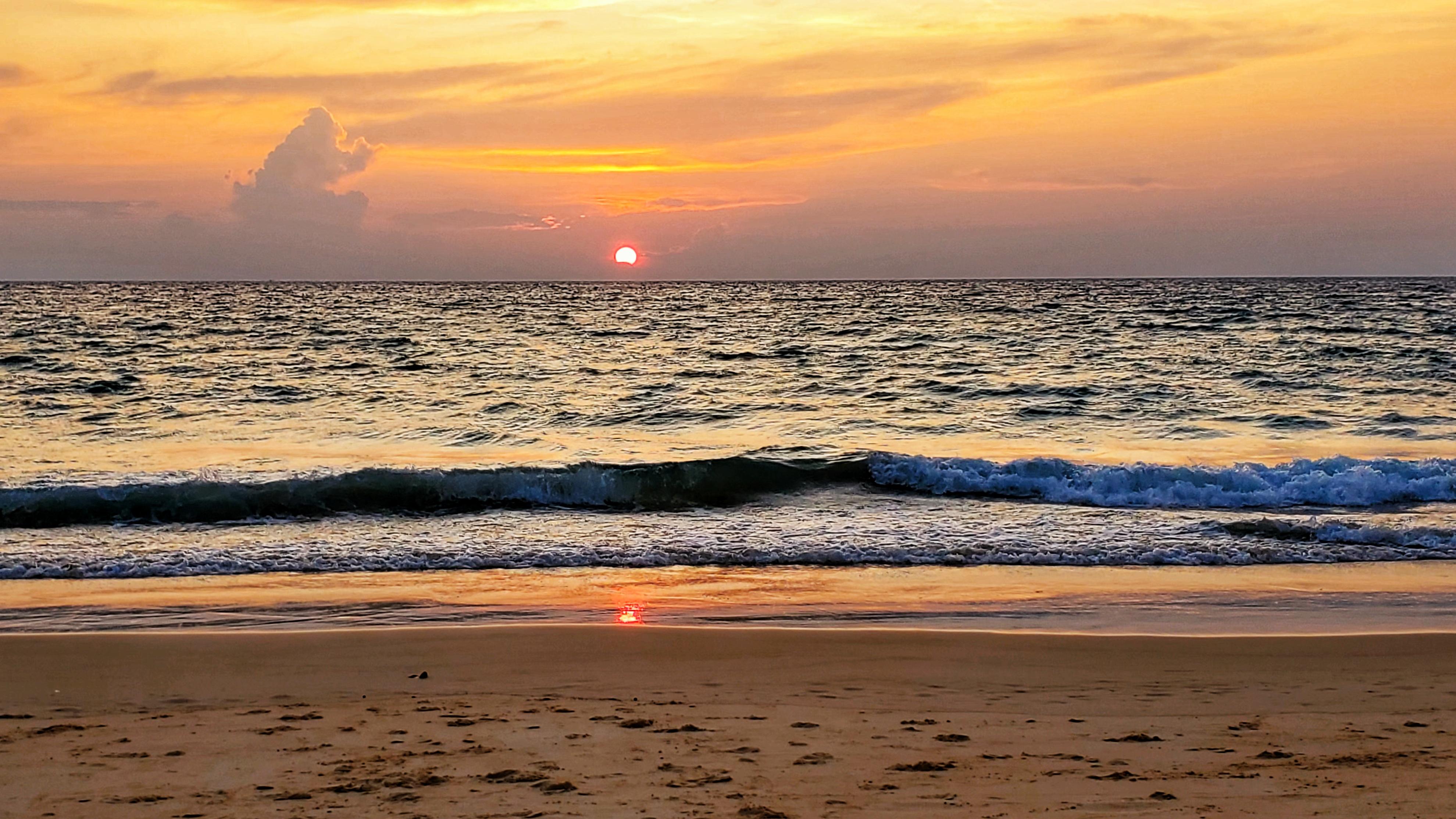 A popular alternative to Patong, Karon is the next town south. Its beach is a long, pristine strip of sand that is firmly in the average category for Phuket. While the sand is great and the water is cleaner than Patong, this beach is rather wide and thus does not have a lot of natural shade from the trees. The waves get fairly big here in off-season, but in high season, it's great from swimming. Karon is not the best for snorkelling though, but you can try your luck in the rocks at the southern end.
There are a couple of beach restaurants in the south and the north, but there are plenty of food options just across the road. Overall, this is a good choice for families that is very easily accessible.
11. Kata Beach
Accessibility: 5; Beauty: 3; Swimming: 3; Snorkelling: 4; Secludedness: 1. Total: 16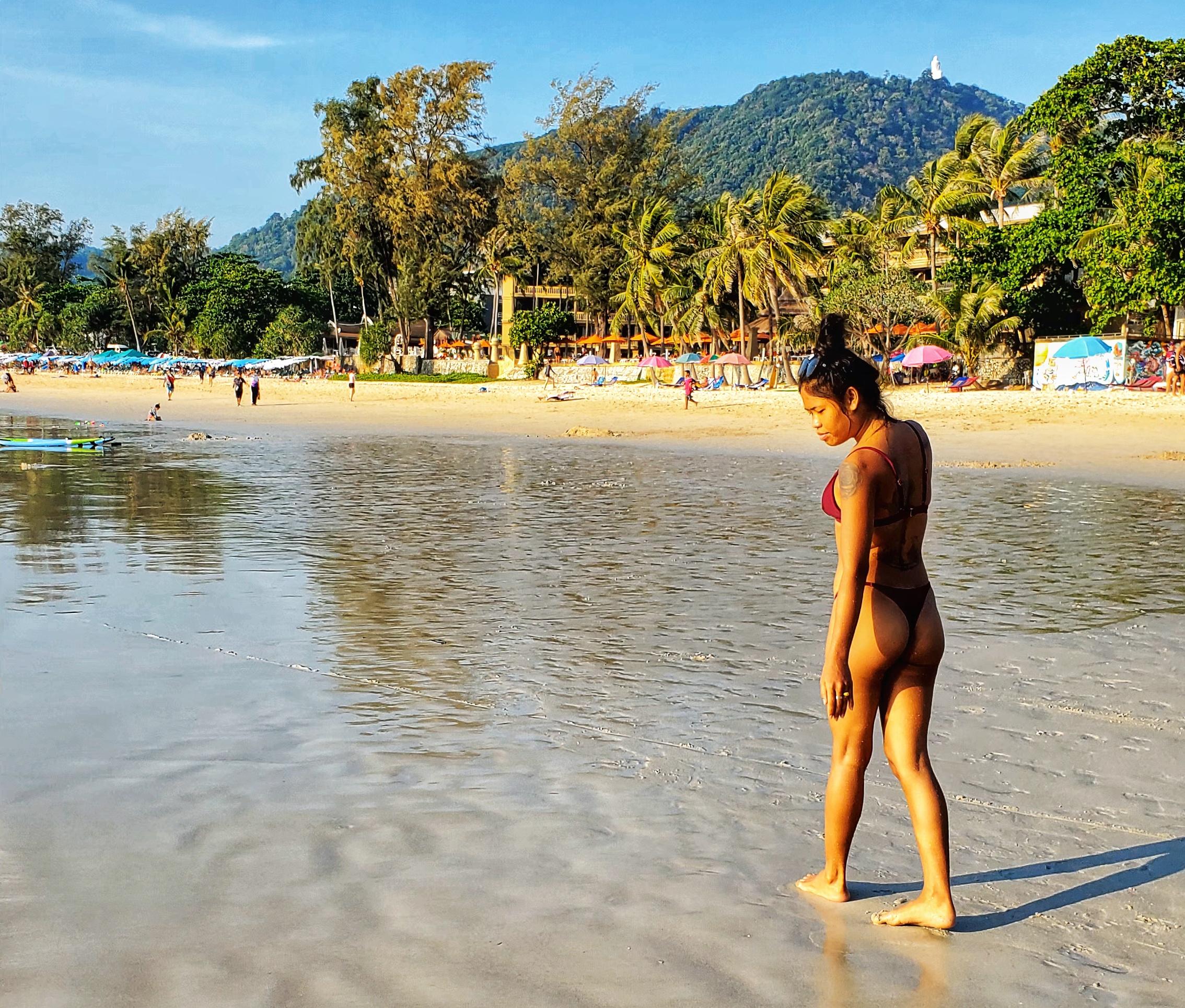 The next beach south from Karon is Kata. Here, due to a multitude of budget accommodation options, you will see significantly more people, even in shoulder and off seasons.
The sand at Kata is unusually firm, but there are some natural shaded areas in the south among the big rocks where a few restaurants and shops are concentrated. In this area, you will also find some great snorkelling with many seastars and tropical fishes.
Swimming-wise, Kata is great in high tide but not quite so good in low tide as the bay is shallow and you'd have to walk quite far before you reach even waist-deep water.
10. Naiyang Beach
Accessibility: 4; Beauty: 4; Swimming: 4; Snorkelling: 2; Secludedness: 2. Total: 16
Naiyang is the main and most popular beach for the north side of Phuket. Located just south of the airport, it is also the site of Sirinat National Park in its northern half. That definitely adds points to the natural beauty, although we are not talking the picture-perfect beach postcard here. The casuarina groves by the beach are nice enough, however, and if you want a beach that has somewhat natural feel to it, it's definitely a great location, although don't expect to find yourself alone on the sand here.
The southern half of Naiyang is lined with resorts and beach eateries and thus, is even more crowded. The waters here are what I would describe as "boring": calm, murky and with not much to see under. Still, it's decent enough for swimming.
If you are staying in the vicinity, Naiyang is a perfectly okay beach, but it's not worth a drive from the southern half of Phuket.
9. Yanui Beach
Accessibility: 4; Beauty: 2; Swimming: 3; Snorkelling: 5; Secludedness: 3. Total: 17
A smaller satellite to Naiharn Beach, Yanui is all about snorkelling. Marine life is abundant in the nearby cove and rocky outcrops, but if you really want to see proper corals and underwater world, take a short swim to the nearby Ko Man island. Don't worry, it's only about a 10-15 minute swim, but make sure you are a solid swimmer as the waters in-between are deep and there is some boat traffic.
Once you get there, you will be rewarded with crystal-clear water teeming with fishes and other life under its surface.
Other than snorkelling, Yanui is actually a surprisingly poor-quality beach. It is tiny and narrow; your towel-throwing options are either against a concrete wall or in-between trees next to the parking area. Getting in the water is hard, especially from the northern half of the beach due to shallowness and abundance or rocks and corals. Despite that, it remains a popular alternative to Naiharn for the nearby busy town of Rawai.
8. Freedom Beach
Accessibility: 1; Beauty: 4; Swimming: 4; Snorkelling: 3; Secludedness: 5. Total: 17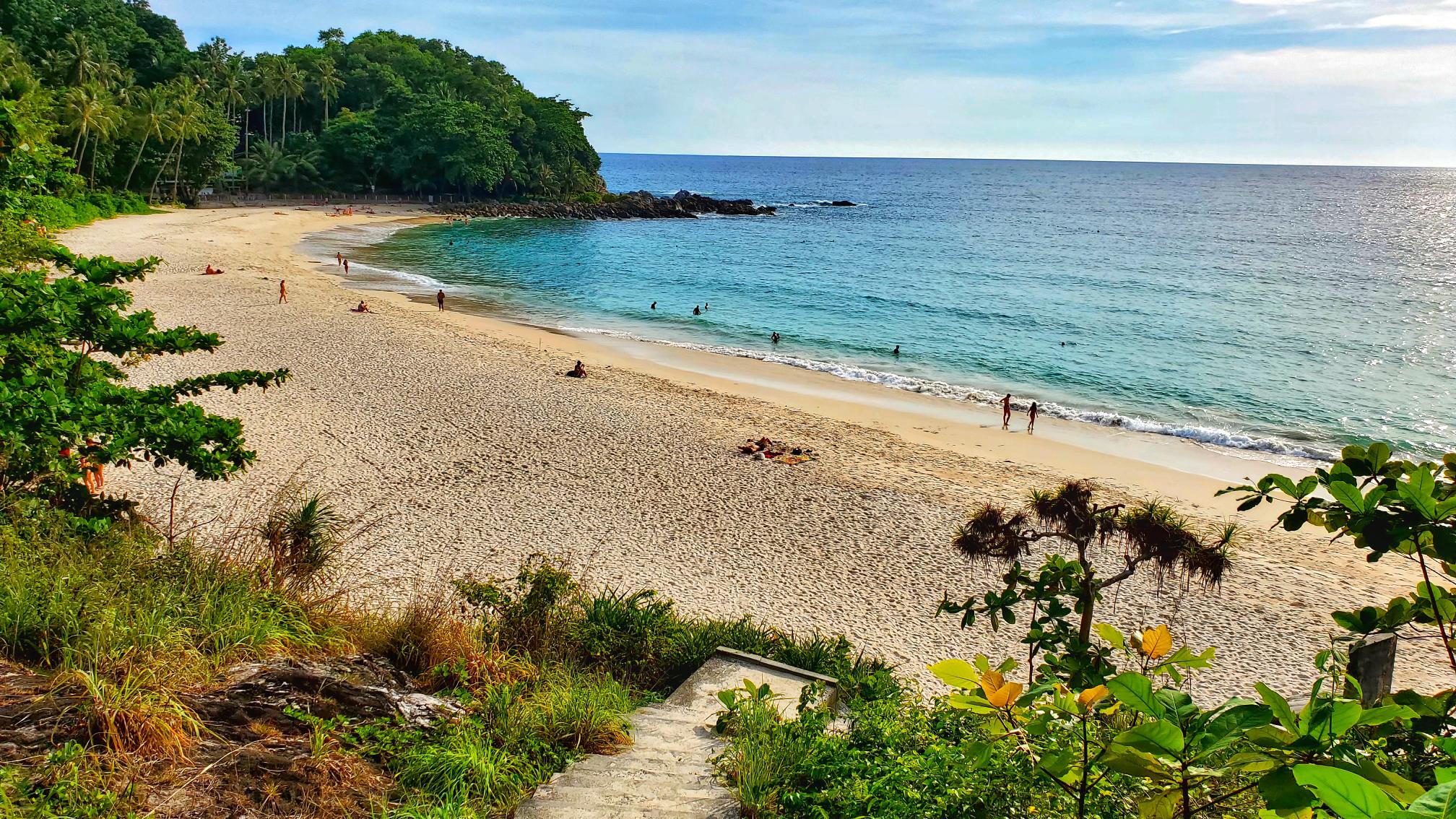 Of all the beaches in this list, Freedom involves the most effort to get to. Not only you have to drive through some very poor-quality road to get here – to the point that if your car doesn't have a lot of ground clearance, I wouldn't advise it – but also a rather strenuous 15-minute hike to get to the sand itself. But is it all worth the effort?
The plus side is that Freedom beach is located between Patong and Karon, and thus, smack in the centre of Phuket. And if you are in a decent shape, the hike could actually be a bonus as it does go through the coastal jungle. There are ropes along the way to help you not slide on the slippery slope.
And once you see the beach, you will be impressed with its wide swath of clean golden sand and clear waters. It's not a quiet bay, though, and the waves can be significant here even in off season. But to a good swimmer that shouldn't be a problem. There is limited snorkelling around the rocky flanks of the beach. The beach is secluded by the Phuket standard, but by no means deserted. Its secret has been out for a while.
7. Hua Beach
Accessibility: 3; Beauty: 5; Swimming: 1; Snorkelling: 3; Secludedness: 5. Total: 17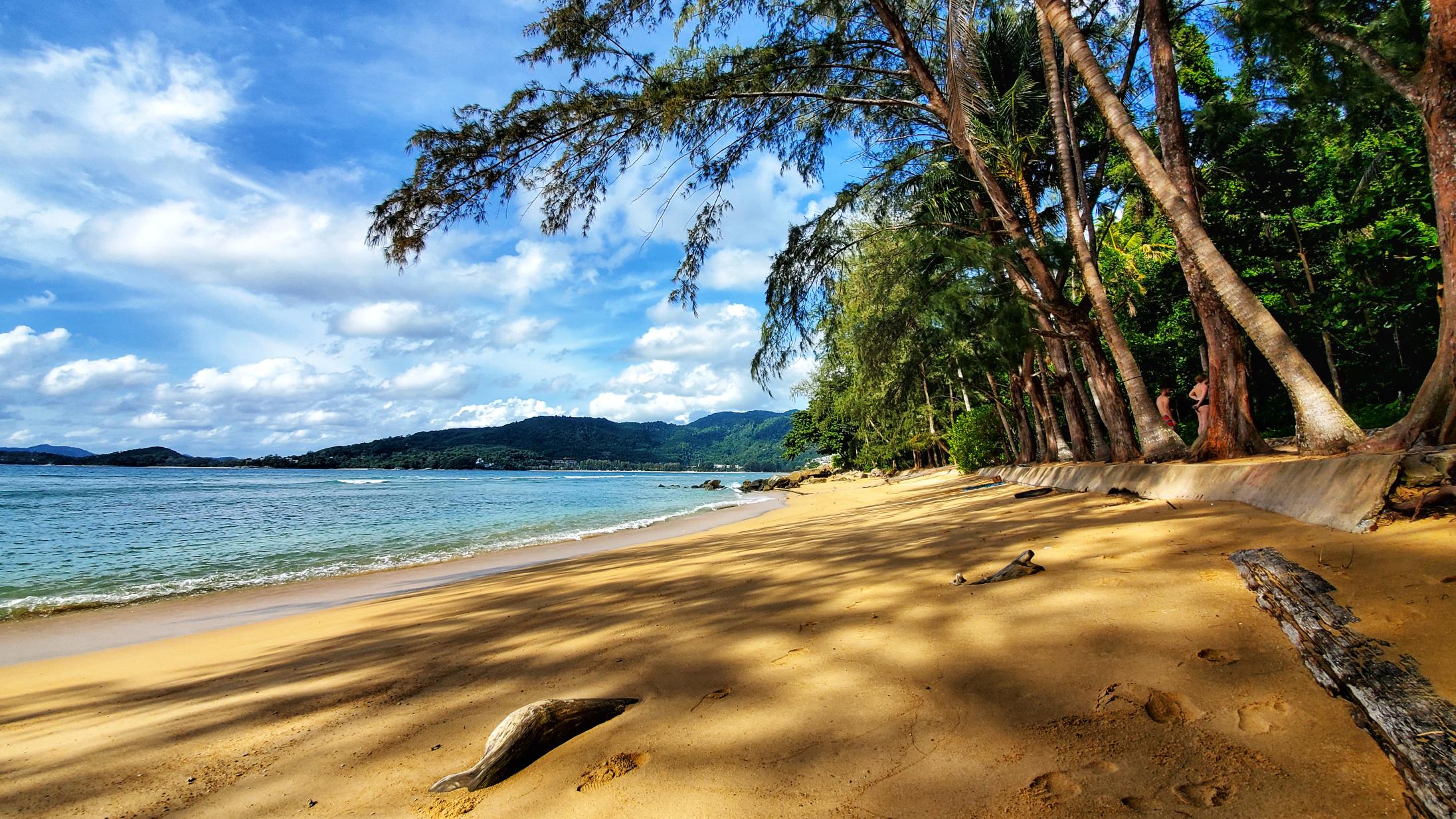 Hua Beach to Kamala is the same as Paradise Beach to Patong – a smaller beach located on the rocky cape south of its larger, better-known neighbour. And in many ways, Hua is similar to Paradise in terms of the setting, water quality and topography of the seabed. It is shallow, full of corals and tricky to get into any kind of swimming position.
But being perhaps the least-known beach in this list (it is not even listed here), it is here where you can find anything resembling seclusion perhaps in the entire island of Phuket. There will be none of the raucous of Paradise beach, not to mention entrance fees or beach chairs for rent. However, there is an elephant sanctuary nearby, as well as some very wealthy residential properties. I have been told by some of the elephant herders that the beach is "private", which is nonsense – there are no truly private beaches in Phuket or Thailand. They just don't want you taking photos of rich people riding elephants on the beach.
6. Ao Sane Beach
Accessibility: 3; Beauty: 4; Swimming: 1; Snorkelling: 5; Secludedness: 5. Total: 18
This tiny beach just north of Naiharn is another snorkelling gem of Phuket. It's accessible through a narrow road that leads to upscale private residences and resorts from Naiharn. To get to its best part, park your vehicle before the small bridge and walk through the secluded Thousand Hills resort and the barely noticeable gate that will lead you on a short downhill path to the small patch of sand. There, you can snorkel once you get far enough from the shallow rocky shoreline. Or, you can swim there from the main part of Ao Sane, which is nonetheless still small and quite secluded. Or, you can simply throw a towel and hardly see a soul all day long.
While snorkelling here is top-notch, swimming is challenging for the same reasons as in other shallow coves of Phuket – the water entry is tricky due to myriads of coral pieces and rocks that line the bottom.
5. Naithon Beach
Accessibility: 4; Beauty: 5; Swimming: 4; Snorkelling: 2; Secludedness: 3. Total: 18
If you stay in north Phuket, you could do much worse than Naithon Beach – a great alternative to Naiyang or Mai Khao. The beach is beautiful and lined with trees providing natural shade. It has a certain undeveloped feel which I find quite appealing. The beach is good for swimming, although not the best for snorkelling.
There are plenty of small shops and food stalls along the beach road, but its location away from the major towns and resorts provide it a sort of a village beach feel. As such, it is popular with the locals but isn't too crowded with tourists even in high season.
4. Kata Noi Beach
Accessibility: 4; Beauty: 4; Swimming: 4; Snorkelling: 3; Secludedness: 4. Total: 19
South of Kata is the semi-secluded Kata Noi, its wilder sibling. It's a nicely situated medium-sized beach with a small village feel yet not what I would call cozy: it's wide and known for big waves/ The sand here is white and powdery.
Kata Noi has almost a Pacific Northwestern feel for those familiar with that region of the USA, except of course, it's tropical. It's got some washed away logs, it's lined with trees and boulders on the sides, and it's challenging for swimming although rewarding as an exercise. The beach is on a dead-end offshoot from the main road as it veers inland toward Rawai, and as such it is rarely crowded. It is an excellent option for a day at the beach, especially as an alternative to Kata or Karon.
3. Surin Beach
Accessibility: 5; Beauty: 3; Swimming: 4; Snorkelling: 5; Secludedness: 3. Total: 20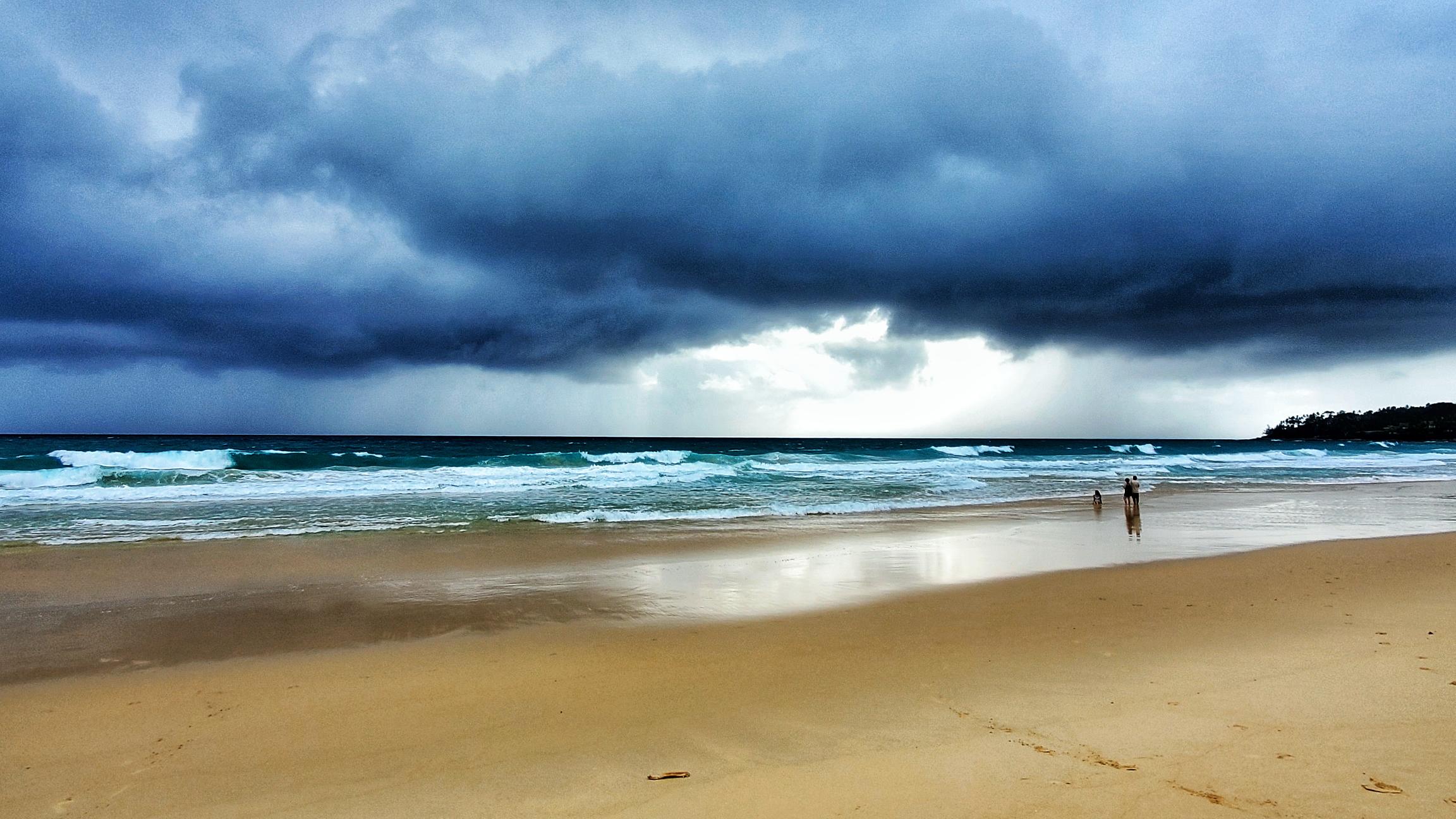 At the tail end of the top 3 of the beaches on this list is the wonderful Surin, perhaps the beach where I spent the most time while in Phuket. Easily accessible off the main road yet not overbuilt or overcrowded, it's got everything – location, beauty, water quality and amenities.
All that, however, is true for high season. In those few months, it's got perhaps the best snorkelling in Phuket along its southern rocks – I routinely saw moray eels, schools of fish and once, even a small shark here. The waters of Surin Beach are clear and its shoreline is deep enough and devoid of unwanted rocks or corals (other than the coves in the south), making it perfect for swimming.
In low season, Surin has some of the biggest waves on the island, making it nearly impossible to enter the water. Massive waves erratically pound its shores. But if you find yourself nearby on a rare sunny day during that time, I would still recommend spending some time here, listening to the waves and maybe enjoying a beer or a pad thai from one of the handful of small restaurants. If you dare enter the water and play with the waves, do so at your own risk!
2. Laem Sing Beach
Accessibility: 2; Beauty: 5; Swimming: 5; Snorkelling: 4; Secludedness: 5. Total: 21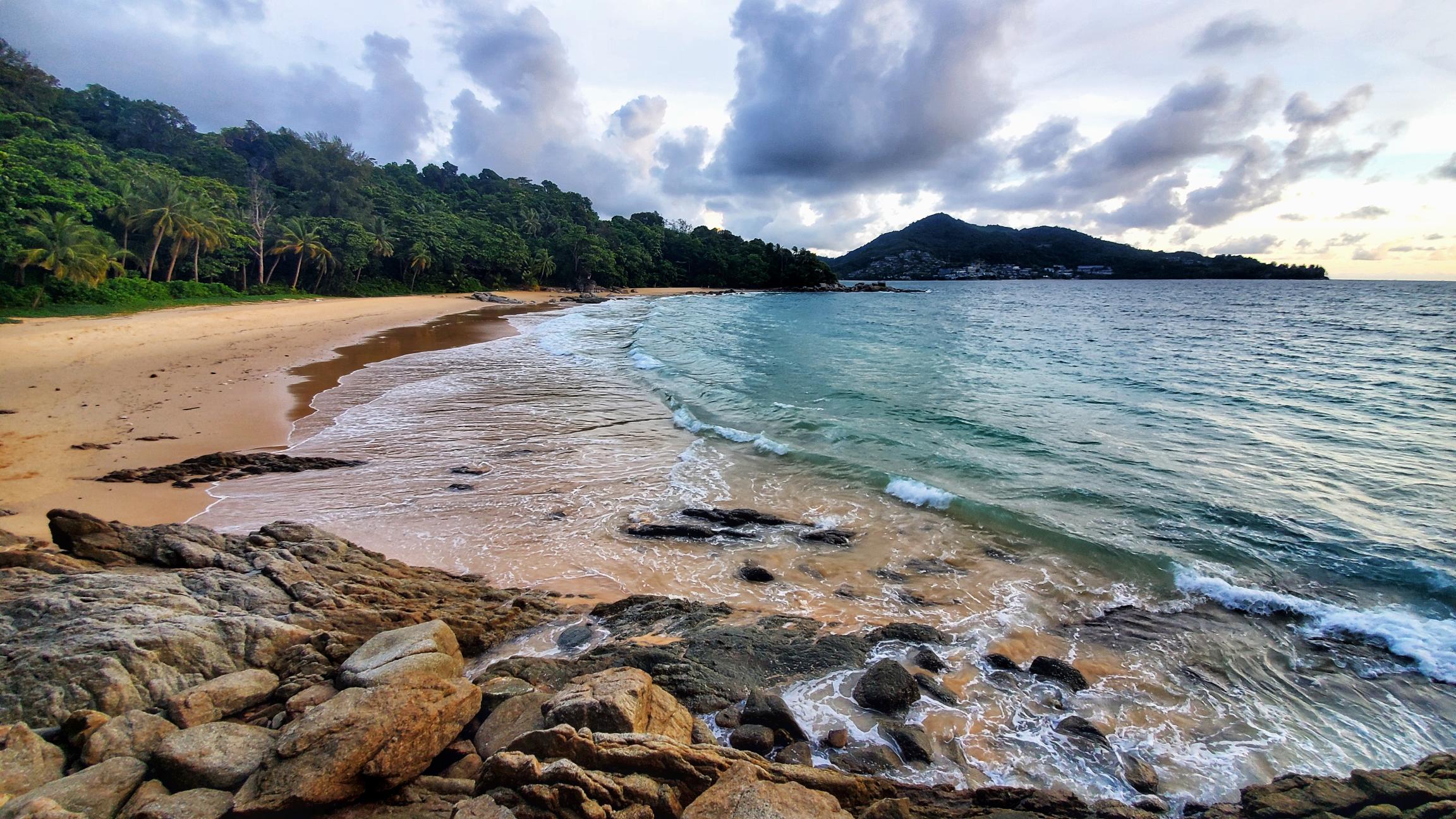 A picturesque 15-minute walk from Surin Beach is Laem Sing – one of the most secluded beaches on the island. It used to be possible to reach it via a short steep walk from the main road, but nowadays, you can only do so by a longer stroll from Surin Beach. The walk is not steep but rocky and potentially, quite slippery. Yet at the end of it, you are rewarded with one of the finest beaches on the island.
If you seek seclusion, you'll find it here. This small crescent-shaped bay is no slouch as a beach – it's got some good depth and the waves can be strong. But it's a great spot for swimming, and you can also snorkel around the rocks on the sides.
Should you get hungry, there's a picturesque rustic restaurant on the northern side, although it does close quite early. If you don't feel like walking, in high season a boat can take you here from Surin beach for about 200 baht per person.
1. Banana Beach
Accessibility: 3; Beauty: 5; Swimming: 5; Snorkelling: 5; Secludedness: 4. Total: 22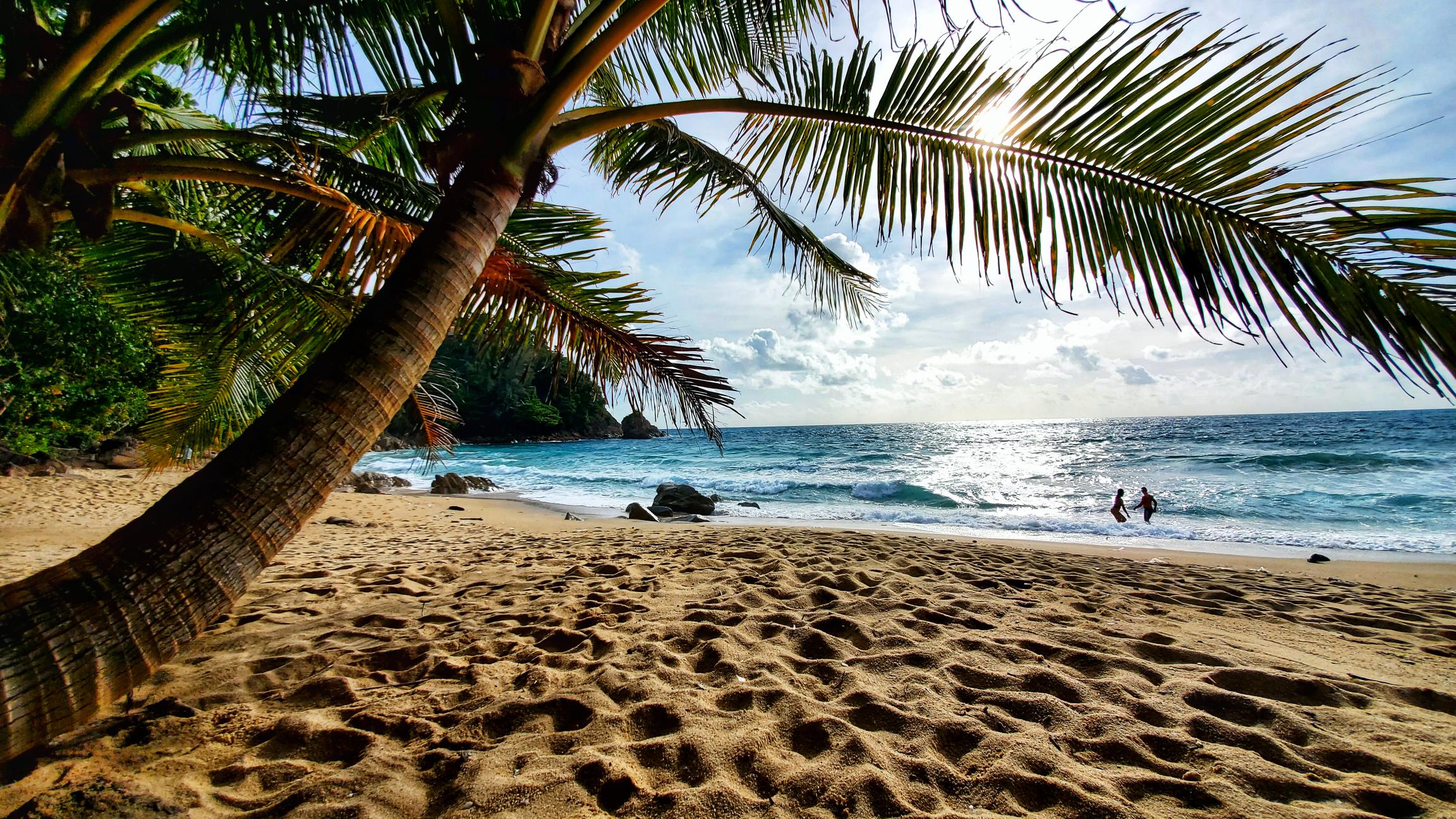 At the top of my list of Phuket's beaches is the lovely Banana Beach. When people think of Thailand's beaches, this is basically it – small, serene, secluded, with palm trees, golden sand and azure waters so inviting you want to jump in the moment you reach the beach from the short steep walk it takes to get here from the road.
Because the beach is nowhere near a large settlement, it's rarely crowded, although it's certainly not a secret location just south of Naithon beach. There is no parking here as such – people leave their vehicles on the side of the road above, which isn't ideal in high season. There is a tiny restaurant and a bar on Banana beach that serves good cocktails that you can sip either at a table, a swing, or on your own beach towel.
And the water is great – clear and with enough marine life to offer good snorkelling. The shoreline here is full of medium to large boulders, so you have to be aware of the best spots to enter the water. Once you are in, it gets deep enough to swim very quickly.
Of course, as with most of west-facing beaches of Phuket, low season is marked by strong waves and currents. That makes Banana beach all but unswimmable during that time. Because the water entrances are rather narrow due to boulders, you would be well advised to stay away from the big waves.
And so there you have it – the list of 18 main beaches of Phuket. Of course, there are dozens and dozens of other, mostly smaller beaches in this tropical paradise, and you can spend weeks exploring them all. But if you come here for a holiday, this guide should give you an idea of the best beach near you. As always, your comments are welcome!